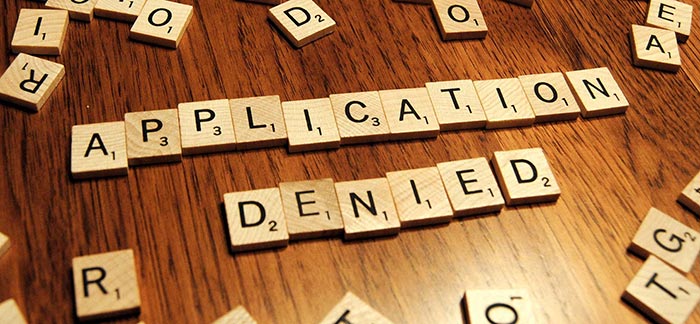 What to do if your life insurance application is rejected:
Talk to your agent.
Sometimes applicants can be refused due to insufficient information being provided or a misunderstanding. Insurance companies collect a lot of information from various sources in order to assess your risk.
As an applicant, you have the right to request information about why you were rejected. It can depend on your medical history, driving record or even the results of your life insurance test.
Talk to your broker or agent to find out what options you have.
Make some changes in your life.
If you were denied coverage due to a health or lifestyle factor, there may be an opportunity to make some changes and reapply.
For example, if you were denied because of your physique, you can work on making diet and exercise changes over the next year. If your health profile improves, the insurance company can reconsider your application.
Consider other insurance options.
Even if you are denied traditional life insurance, accident insurance is likely still an option. This policy provides a death benefit if you die as a result of an accident.
Unfortunately, it is not full protection. If you die as a result of illness, such as a heart attack or cancer, it will not pay a death benefit. But it still gives some peace of mind. And it̵
7;s not expensive.
Another suggestion would be to look into any life insurance policies offered to you through your employer.
Group life insurance is guaranteed acceptance, even if you are denied by traditional life insurance.
An employer usually only offers group life insurance that is 1-2 times your salary, but workers often have the option of purchasing additional employer-sponsored life insurance without having to prove they are insurable. This is a voluntary supplementary life insurance.
If you were denied traditional life insurance, accept group life insurance coverage and purchase as much optional supplemental coverage as you can comfortably afford.
A third option is guaranteed issue life insurance. If you are between the ages of 50 and 80 and you were denied traditional life insurance, guaranteed issue may be available.
These products do not require medical examinations or medical records. The insurance company expects to take a lot of risk with these applicants, so guaranteed life insurance premiums are quite expensive. It is often called "life insurance of last resort". However, if you want life insurance for your final expenses, it may be something to consider.
Apply through a broker.
If you applied through a captive agent, it may benefit you to apply to a broker. Captive agents cannot search for different life insurance companies, while independent brokers have access to many.
Not all life insurance companies underwrite in the same way, so you may be able to find coverage elsewhere.
At Quotacy, we represent several life insurance companies and have high-risk guarantees. Your dedicated Quotacy agent will assess your situation and work to find the best fit for you.
Start the process now by getting free life insurance quotes.
Compare stores at your own pace without having to provide contact details. Once you submit your online application, Quotacy works for you.
We cannot guarantee that we will be able to find a carrier that can offer you traditional life insurance. If so, we may be able to help you with other options, such as guaranteed life insurance or an accidental death plan.
Source link