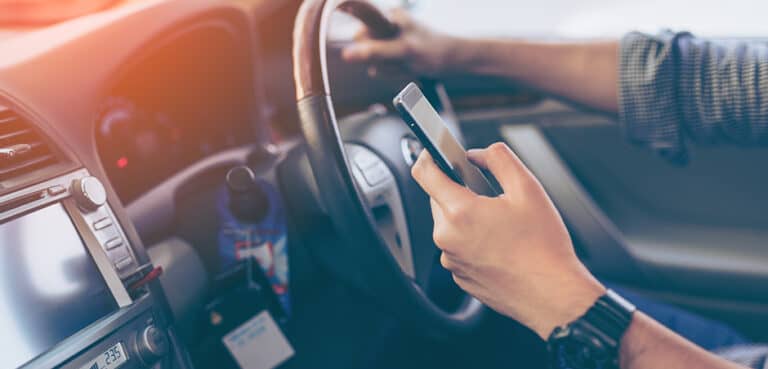 You drive along, the sun is setting and a cozy warm breeze is blowing. You listen to a song you've heard a hundred times, drive a road you've driven twice a day, every day for years. Your mind starts to wander, you have a million different things on your mind, right?
A task as relaxing as driving makes it just as easy to get distracted in the tangle of everything weighing on one's mind. Many drivers hear distracted driving and immediately think that texting is the main culprit. Yet a study conducted by the Insurance Institute for Highway Safety (IIHS)—using data collected from the Fatality Analysis Reporting System (FARS)—found that a staggering 64% of distracted drivers were generally distracted or "lost in thought"
; (daydreaming ), compared to only 12% being distracted by mobile phones.
"We are all at risk of mind wandering when we drive." said Bob Buckel, vice president of personal auto, Erie Insurance. "It's important for all of us to constantly remind ourselves that things can happen on the road in a split second, so it's important that we pay attention while we're behind the wheel."
The danger of distractions
Distracted driving is always dangerous and we strongly encourage drivers to be vigilant, no matter what day of the week or month it is – keep your eyes on the road ahead. Daydreaming or letting your mind wander reduces your awareness of what's going on around you and delays reaction times, making it very dangerous when driving a vehicle.
The IIHS used the data from FARS to show that the most dangerous days for distraction-based crashes in 2020 were Saturdays in August. Conversely, Mondays in April were found to be the least dangerous days. According to the data presented, nearly half of all fatal crashes occurred on either a Friday, Saturday or Sunday. Crashes occur more often during the times we find most relaxing, such as weekend trips.
The IIHS also compiled its 2020 list of the top types of distractions that led to fatal crashes. The top five are:
64% – Generally distracted or "lost in thought" (daydreaming)
12% – Mobile phone use (talking, listening, calling, texting)
8% – Outside person, object or event
5% – Other passengers (talking to or looking at other people in the car)
4% – Other distraction, not specified
To stay alert
To help raise awareness of the dangers of distracted driving, ERIE reached out to Paul Atchley, Ph.D., an internationally recognized cognitive behavioral scientist. Atchley has studied distracted driving for over 20 years, and he suggested several tips to help drivers stay alert behind the wheel.
Never replace boredom with a distraction. In the modern world, this is often done by grabbing our phones and scrolling or responding to that text you just heard ding. Reaching for your phone behind the wheel is dangerous. Instead, fill that boredom with a game with focus, like "I Spy".
Keep your perception of risk sharp. This refers to knowing where to look on the road and recognizing what is happening around you that may result in you needing to act. These things can include others quickly changing lanes, pedestrians crossing the street, or vehicles changing speed.
Carpooling with other experienced drivers. Having a second experienced driver in the vehicle acts as a second set of trained eyes who can also make light conversation to keep your mind focused.
Avoid listening to the same playlists. Believe it or not, that song you've heard a hundred times and can recite word for word actually makes daydreaming easier. Try shaking it up, put on a new playlist or play a channel you've never listened to before. It will help you be more alert and maybe find a new favorite song!
Use a form of passive engagement. Passive engagement comes from something that engages your mind to focus, such as listening to a podcast or radio show. According to Atchley, the strength of passive engagement in a situation like driving is that your brain can automatically tune it out when it needs to be fully focused on the new task at hand. Do you ever remember a moment that quickly caught your attention and the background noise, like a radio, is suddenly absent from your memories of that moment?
To give peace of mind
Here at ERIE, we insure your cars, but we care deeply about the safety of our customers, which is why we encourage you to always be vigilant and avoid distractions on the road. April is distracted driving month, but we feel this is a reason to stand behind it all year. Be sure to reach out to learn more about your options for staying protected, no matter what you encounter on the road ahead.
ERIE® insurance products and services are provided by one or more of the following insurers: Erie Insurance Exchange, Erie Insurance Company, Erie Insurance Property & Casualty Company, Flagship City Insurance Company and Erie Family Life Insurance Company (home office: Erie, Pennsylvania) or Erie Insurance Company of New York (home office: Rochester, New York). The companies within the Erie Insurance Group are not licensed to do business in all states. See the company's licensing and business information.
The insurance products and rates, if applicable, described in this blog are effective as of July 2022 and are subject to change at any time.
Insurance products are subject to conditions and exclusions not described in this blog. The policy contains the specific details of coverage, terms, conditions and exclusions.
The insurance products and services described in this blog are not offered in all states. ERIE life insurance and annuity products are not available in New York. ERIE Medicare supplement products are not available in the District of Columbia or New York. ERIE long-term care products are not available in the District of Columbia and New York.
Eligibility will be determined at the time of application based on applicable underwriting guidelines and rules in effect at that time.
Your ERIE agent can offer you practical guidance and answer any questions you may have before you buy.

Source link