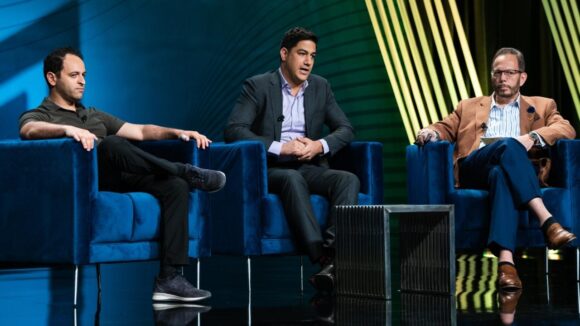 This post is part of a series sponsored by AgentSync.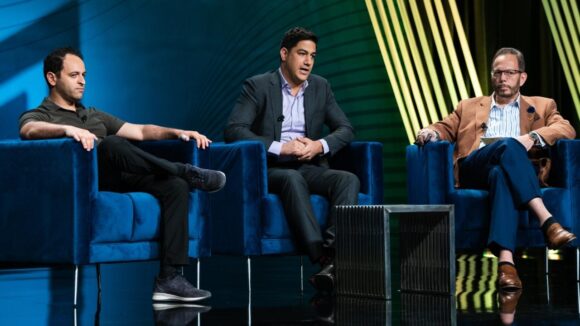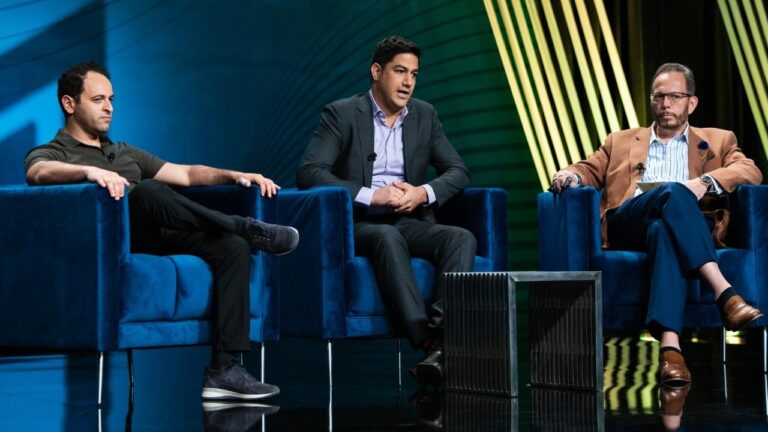 Medicare faces many challenges in the coming years, with regulatory trends, federal funding and increasing life expectancy all playing a role in the future of the program and its private spin-offs.
Still, as digital adoption rolls in, starting with Medicare beneficiaries, early rumors that digital would replace producers have died down. In general, the industry understands that there will continue to be a human element in this human activity, but the question is, what will that role be?
With host Domenick DiCicco, CEO of Benefytt, EasyHealth CEO David Duel and AgentSync's own CEO and co-founder Niji Sabharwal weighed in on the June 8, 2022, Medicarians session, "The Role of the Producer: The Next Ten Years."
Application data shows low usage rates for digital only
Like much of the conference, this fireside chat was abuzz with the question of whether AI had the potential to replace the role of human agents in Medicare plan selection. DiCicco noted that a significant percentage of seniors are not "very comfortable" buying something like insurance online, a sentiment echoed by Duel and Sabharwal.
Duel, whose company has embraced technology-based digital sales, weighed in with the opinion that the future may see more digital adoption for seniors, but that the limitations are significant.
"The vast majority of digital apps will still be made with agent-assisted processes due to [the range of Medicare products] is just too complicated, Duel said. "Even if a senior got pretty far down an online-only application funnel…producers aren't going anywhere anytime soon."
Speaking from experience, Duel noted that the all-self-service portals have seen very little adoption among seniors, and many Medicare members who use the self-service portal have tended to be more likely to churn. The dilemma involves a low incentive for self-service, digital-only adoption in the industry.
Sabharwal echoed the sentiment, noting, "The percentage of premium written by producers is not on the decline."
He spoke of a "price sensitivity threshold," where policyholders feel comfortable self-selecting single-use policies or low-cost policies such as renters or travel insurance, but "above a certain threshold, policyholders want to talk to a trusted advisor." The weight of the Medicare decision, Sabharwal said, was something that put it in the high-end category.
Yet the need for digital transformation is real.
"An online presence as a front door is a big part of the future, a tech producer experience," Sabharwal said. "But the approach has to be the best of both worlds, automated platforms with autocomplete text are more important than ever, but [a Medicare participant] To navigate the multitude of options, a real partner is needed."
Reliable advice a lasting key for insurance business
The heart of the peer chat was simple: "How will the role of the producer evolve over the next 10 years?"
Duel's company acts as a broker to help Medicare beneficiaries select benefit or supplement plans as well as provide ongoing services such as follow-ups with plan members, helping them access coverage and performing home visits. His perspective was largely shaped by the idea that insurance agents represent the front line of reducing plan churn.
He believed, based on what his company has seen, that the next decade of producer development will largely be driven by retention, and producers will take a more active role in service and plan engagement.
"We tried a lot of things on an agent and after sales experience by expanding the agent's role in the after-sales … in engaging consumers with the plan, which led to significant increases in retention," says Duel. "I think over time agents will take a more active role in healthcare connections beyond choosing a plan to actual engagement."
As DiCicco pointed out, the current market mostly lacks a producer incentive in this arena – other than commissions tied to retention, there is little to drive producers to help members book doctor appointments or engage in more holistic care. In fact, there are barriers like HIPPA that present a real barrier to insurance producers taking a bigger hand in healthcare decision-making for their customers.
Still, Duel said, there is a play for technology that can help both customers and producers overcome these challenges to provide a more comprehensive health and care approach.
"It's still nascent but I think operators that are incentivizing these real services are developing," he said, speaking of increasing churn driving higher acquisition costs per member and declining member lifetime values. One point, Duel said, was that Medicare insurers helping their members stay healthy is a huge savings point, but becomes less achievable with churn.
Sabharwal's startup, AgentSync (that's us, we're AgentSync!), isn't specific to Medicare—although we do have Medicare-specific clients—but many industry trends apply within Medicare as well.
"We have a unique vantage point because we sit in the middle of distribution," Sabharwal said. "And to [Duel's] point, the lifetime value of a member used to be more lucrative, but the industry is slicing that pie thinner as companies try to get more people to switch. It erodes the lifetime value of a member very quickly, so investing in not just distribution but also the entire lifecycle of a member will be the make or break for winners and losers in this part of the industry."
The industry, he said, will have to dig into a long game, with producers increasingly becoming stewards of data.
"I think we're going to see some really interesting changes in the next 10 years," Sabharwal said. "Unprecedented cohorts of agents will be retiring, and as these producers move their books, the average age of agents will drop. Likewise, Gen X is on its way to becoming the consumer cohort in this space … using web-based tools will go from an area of ​​doubt to an area of ​​demand."
Sabharwal's prediction was that while he argued that manufacturers need to be a firm part of the Medicare purchasing process, having a robust technology stack over the next decade would not be negotiable.
"Manufacturers need to be great people enabled by great tools to deliver great customer service," he said. "[Medicare carriers and distributors] will need to maximize the time that producers can spend with consumers."
Insurtech values ​​and trends
Before closing, DiCicco ventured a few questions about venture capital and the current public market values ​​of prominent insurtechs, which had high IPOs only to see significant pullbacks in recent months.
Sabharwal and Duel both offered that high IPOs followed by steep declines likely reflect a misunderstanding by public markets and Wall Street about the fundamental underlying model of insurance companies. DiCicco agreed, saying public markets often don't understand that premium collections don't equate to profits.
"VC is drying up in insurtech, and we're going to see heightened due diligence on your for-profits," Duel said. "The bust is hurting everyone in the industry in some way. … Having positive unit economics is the cure."
"Some companies are great companies that are doing really well, but you can't judge the success of a company based on the public valuation," Sabharwal said. "Unfortunately, big companies will be hit in the face until the market corrects itself."
Sabharwal argued that, despite public market flows, the future of insurtech looks bullish.
"As a company, we were initially able to use a lot of infrastructure technology in our business that doesn't exist in insurance," he said. "Right now we're digitizing paper processes, and that's been the first wave of insurtech, but the second wave is going to start transforming those tools and commoditizing core processes as real infrastructure. The next wave is going to be a lot more interesting because it's going to be driven of innovation and transformation."
If you're interested in getting involved in Sabharwal's vision and riding that wave of digital infrastructure transformation, see what AgentSync can do for you.
Substances
Trends
Source link