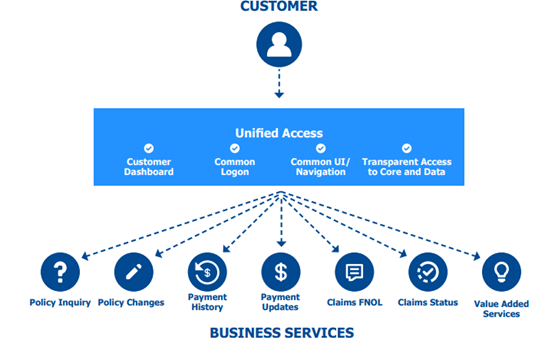 I am an avid book lover across a wide range of genres and keep the bookstore busy. But post-pandemic book sales are experiencing a slight decline, but one particular book format is selling better than ever – the e-book. In fact, 30% of readers chose an e-book over a print book in the past year. While that number may not seem like a majority, it is a 43% increase over the past decade.[i] Have you read an e-book? If so, why did you choose it over a printed book?
For some people, e-books represent an increase in digital convenience. It̵
7;s not a trip to the bookstore. You can borrow it from your local library. You can buy it 24/7. You can search the "shelves" more easily, and (if you use Amazon) you can know that some algorithm somewhere is placing curated selections right in front of you, based on your previous purchases.
Since e-books are digital files, they are also available through multiple channels. This includes channels where purchase is not the primary option. Almost all municipal public libraries have partnered with digital providers such as Hoopla and Overdrive to allow checkout from the library's catalog. For university students, the backpack has become lighter with digital editions available for rent through mainstream textbook suppliers and Amazon. Google has also compiled rights-free titles to keep historical volumes alive for research and fun.
The brand, brand culture and customer engagement.
In any case, the distribution of e-books is strongly linked to the brand – both the publisher and the distribution brand. This is also starting to happen in insurance. Insurance can be sold through a marketplace, sold as part of another brand's service package, or even invisibly embedded in another brand's product or service.
In the case of books, once distribution has taken place, it is the responsibility of the publisher to have provided a useful title, with features such as easy search and robust internal links. The customer's "journey" through the book is the key driver of retention. With insurance, it is also the customer journey (along with price) that is the most important driver of retention.
Never has the back-end insurance business been so linked to the brand. Insurance companies now wear their culture on their sleeves. Usability is paramount. Insurance companies show whether or not they care about their customers through the simple customer journey. The ideal underwriting process draws customers in through multiple easy-to-use channels, then keeps them happy through "invisible" engagement – processes and tasks so simple that even considering a competitive offer seems like nonsense.
A unified vision that results in an invisible process.
In our latest customer experience blog, we looked at six technical barriers to customer-friendliness in insurance. In today's blog, we answer these obstacles with a vision—using technical perspectives to chart a course for improved customer engagement. Create a compelling story with customers by transforming your internal business culture into one you're proud to show off. Connect with customers by connecting platforms, ecosystems and data. Show them who you are by not showing them the internal limitations you face. Create an "invisible" process where every experience feels natural because it made it feel that way.
The three lenses of insurance transformation.
Applying the vision from three lenses will enable insurers to see the customer properly and will allow the customer to view insurance companies accurately and positively.
These lenses include:
The Execution lens
To implement the technologies and processes that will make everything possible.
The ecosystem lens
Create an ecosystem of partners that allow the flow of information and data to automate and improve the process.
The customer lens
Deliver a 360-degree experience across multiple activities, unencumbered by silos.
When the transparency of the culture and the invisibility of the customer experience come together, they both tell the story of an organization prepared for the future. Customers can then look into an insurer's culture and understand the planning and management, instead of trying to look in and catch a glimpse of the mess.
Non-negotiable technology: the foundation of execution
Process and technology are inextricably linked. Supporting customer functions and capabilities requires a specific set of digital technologies to enable the front-end user experience. The engineering approach must include strong capabilities and options for building implementation, including pre-integration of key solutions. For successful execution, the solution must include component-based design and assembly, plus APIs and pre-integrations.
A next-generation, robust architecture enables redefined business services. Maintenance and upgrades are fine-grained and frequent, much easier to test and put into production.
API libraries make reuse and similar connections easy. Insurers should use a comprehensive API library, such as Majesco API Management and Majesco EcoExchange with partner solutions. Using this, in conjunction with policy, billing and claims, creates a unified platform for integration that can be implemented with key components at any time and in a flexible manner. APIs also give insurers the ability to more easily integrate with multiple provider systems.
Smart Insurance: The Ecosystem Design Framework
Workflow will drive the next generation of system improvements, and data will make it possible. A digital mindset is essential – recognizing that the collection, extraction and creation of digital data is required to support workflows and analytics across the enterprise. This forms the basis for improving business intelligence and leveraging analytics, AI and advanced technology.
Direct processing is now more possible than ever. The ability to leverage AI in both underwriting and claims is critical to consistent success. Smart data capture involves intelligently ingesting structured data sources, leveraging data-filling capabilities and adaptive interviews to ask only the questions required of the customer. Additionally, it includes extracting unstructured data from PDF files, forms, and other unstructured data sources such as email. Critical capabilities include not only capturing structured data or converting unstructured data to structured data, but also the ability to index data and route it through relevant transactional workflows.
Endless journeys: the customer experience that satisfies
Both framework development and technology assessment MUST be utilized from the lens of the customer experience. Here's why.
Let's say for a moment that your company is now motivated to improve the customer experience. You spend time in meetings discussing the types of features you might want to add to your customer dashboard. You build a case for certain elements to be added to the mix. You consider the balance between what should and should not be shown to a customer without agent guidance. Without using the customer lens, you can get services where barriers and silos are still acceptable and visible.
Does the company identify the silos, not by what they think they have in the back office, but by what they know they can't allow customers to do for themselves in the same session?
There is almost nothing more frustrating than starting over. For the customer, switching systems or apps is like being sent back to the beginning of a streaming movie or losing a digital bookmark in an e-book. Insurers can begin to look at their customer journeys in light of obstacles, recoding, re-logins and do-overs. And the more insurers use security codes and greater password restrictions, the more they will need to provide full access in one location.
A Customer 360 Vision unifies not only the dashboards but also the data sources to provide a seamless experience, multiple logins and reboots. The customer does not want to know that they may have access to multiple policies, billing systems and claims systems for a particular request. They want the complications removed. They want a process that simply works as it should and has no obstacles in the way. That's what Majesco Digital Customer360 delivers.
Figure 1: Use cases with a Customer 360 view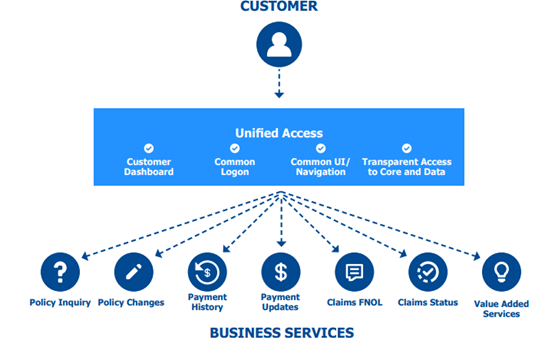 Would insurers rather see customers see the inside of how silos force them into customer service corners, or would it be better to both cover and fix insurance services by creating new systems and processes that hide all traces of barriers and silos? A Customer 360 Service Vision makes its own case for new approaches to systems and data.
Staying "on brand"
There is a common term in business today – "on brand." The idea is interesting. It forces companies to assess whether or not their products, services and culture fit their brand, or if perhaps the organization itself needs to change to allow an internal "re-branding" to suit the customer. Does your back office brand fit the brand culture you want to portray? Can you engage the new generation of insurance customers? Is your organization becoming uncomfortable with being able to maintain the brand as an insurer with competitive offerings in the industry?
Now is the time to assess and change. Grow the brand that will meet today's and tomorrow's needs by creating a brand new digital customer experience. Be sure to read Core Modernization in the Digital Era, or check out Insurance Growth & Opportunities — How Next Gen Technology, Products, Data, Channels and Ecosystems Driving Change in the Face of Increasing Market Change.
---
[i] Faverio, Michelle and Andrew Perrin, Three-in-ten Americans now read e-books, Pew Research Center, 6 Jan. 2022.
Source link