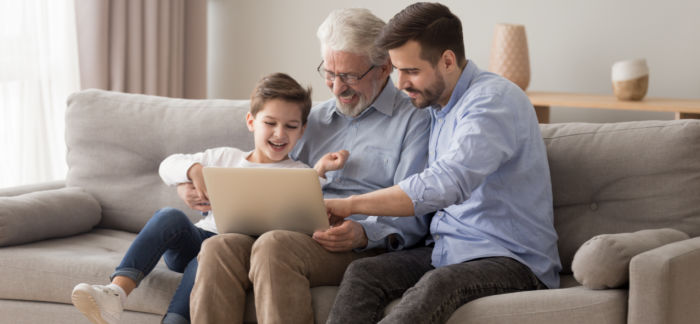 Step Two: Support Your Children
Your children are your first priority. If they are quite young, they will only rely on you.
Life insurance is extremely important to have during this time of your life. Your income provides for your children. What happens without it? Even if your partner also earns his living, how will a sudden transition from a double-income household to single income affect your loved ones?
Life insurance can help compensate for lost income should you die unexpectedly. For stay-at-home parents, the funds from a life insurance policy can help the surviving parent get help taking care of everything at home.
Also, if you know that you will soon be helping to take care of your parents, think about your own future . You may want to start planning so that your own children do not have the same responsibilities.
Make a plan for how to increase your pension savings year by year. Maybe a long-term care insurance or a long-term caregiver on a permanent life insurance is something you should take a closer look at.
Start getting basic property planning documents in place. This includes a will, a permanent power of attorney and a health care power of attorney. Creating these documents now will remove a heavy burden from your children later.
Step Three: Helping Take Care of Your Parents
If your parents are still independent, make it a priority to sit down with them and go over their financial documents and wishes. Help them review and organize everything. Getting this out of the way now will make your life easier when it's time for you to step in.
Do they have a life insurance with cash value that can be used to supplement their care? Do they have long-term care insurance? If finances are a problem, are they eligible for Medicaid?
Finding out exactly where they are financially helps you decide how to plan your own finances.
If you have siblings, be sure to keep them updated . When it's time, you may need their help in caring for your parents.
How practical do you think you will need to be when you start caring for your parents? If you help them on a daily basis and even contribute financially, you may want to re-evaluate your current life insurance. If both your children and parents will rely on you, it can be crucial to increase your life insurance coverage.
Ask for help when you need it
You can not take care of others if you do not take care of yourself. Prioritize healthy eating, exercise, enough sleep, pursuing interests and hobbies and visiting with friends. These activities will go a long way to reducing stress.
If you are in a relationship, take time for your partner. Too often, the amount of time, energy, and anxiety involved in caring for a marriage negatively affects, sometimes even leading to, separation or divorce. But reserving some time and energy to keep the marriage strong actually relieves stress.
And finally, forming a support system, not just a spouse, but extended family, friends, adult children or even a paid housekeeper or part-time caregiver. You can not do everything.
There are support programs designed specifically for family carers. You can find them at Caregiving.org.
If you need help reviewing your own life insurance needs, Quotacy can help you. As a broker, we are your advocate. We will not push products that you do not need.
Our agents can help you determine the type of life insurance and how much coverage is best for your unique circumstances. We help you buy a policy that suits your needs and budget.
Source link