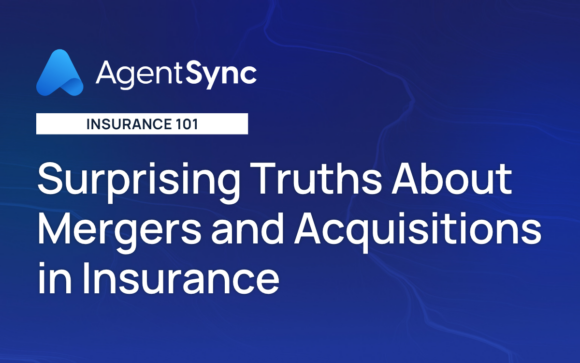 This post is part of a series sponsored by AgentSync.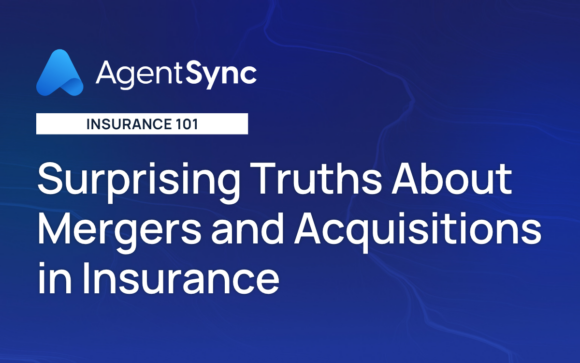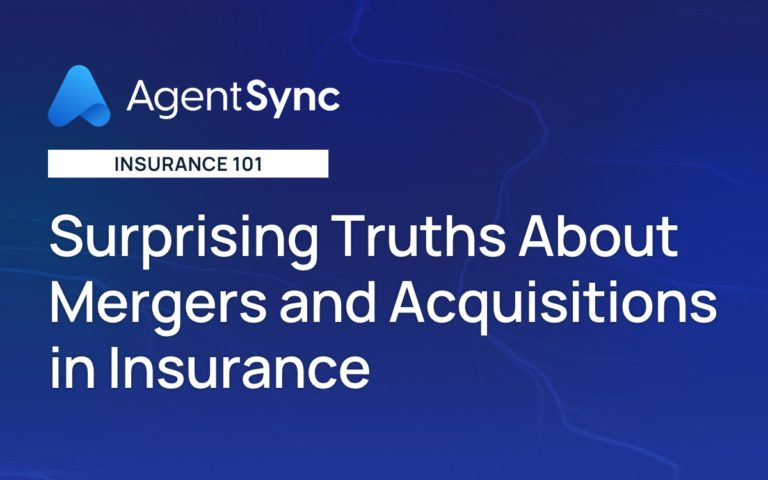 Mergers and acquisitions (M&A) are always a hot topic in insurance. From small agencies hoping to be acquired, large agencies hoping to get bigger, or carriers looking to expand into new geographies or industries, there are a variety of reasons why companies consider mergers and acquisitions.
Since it's such a common occurrence in the insurance industry, it's no surprise that we've written about insurance mergers and acquisitions before. Interested in reading about why you should prioritize compliance in the business acquisition process? Done. Or wondering how you can avoid getting stuck with a lemon in an insurance purchase? Done. How about an argument for why your tech stack matters before you even consider selling your insurance agency? Done!
But if you're just looking for some basics – namely, what is all this talk about M&A in the insurance industry about anyway – then you've come to the right place. In this blog we will cover the basics like:
What are mergers and acquisitions?
How do mergers and acquisitions differ from each other?
Why are there so many mergers and acquisitions in insurance?
Why do some insurance companies acquire others?
Why would you want your insurance company to be acquired?
Before you read on, please remember that we are experts in managing producer license compliance, but we are not your attorney or accountant. Before considering any insurance M&A activity for yourself, make sure you get expert advice from a trusted expert. To simplify and automate your agency's, carrier's or MGA's compliance, see how AgentSync can help.
What does M&A mean in insurance?
The term M&A stands for mergers and acquisitions: the process by which several separate business units become one. The phrase mergers and acquisitions can encompass a few different specific actions, each with different meanings and implications.
What is an insurance merger?
An insurance merger is when two separate companies are formed into a new company. For example, Insurance Company A and Insurance Company B decide that they would be better positioned together to form a new company: Insurance Company C.
What is an insurance acquisition?
An insurance acquisition is when a company acquires one or more other companies and thus brings the acquired company under the acquiring company's umbrella. The acquiring company, also called the parent company, does not have to buy 100 percent of the company it wants to acquire. Generally, a company only needs to acquire more than 50 percent of another business to gain control.
How are mergers and acquisitions different?
Simply put, a merger usually refers to a "merger of equals" where two companies agree that it is a smart business move to merge into a new company. An acquisition usually refers to a larger company buying all or part of a smaller company and becoming its new owner or parent company. Acquisitions can be voluntary or involuntary (sometimes known as a takeover or hostile takeover if the company being acquired is not mutually willing).
How common is M&A in insurance?
Mergers and acquisitions often occur in the insurance industry, which includes insurance agencies, carriers, MGAs/MGUs and insurance technology companies (insurtechs).
Over the past 20 years, insurance deal values ​​(how much each deal is worth) and deal volume (the number of deals completed) have grown and remained high: ranging from just under $40 billion over about 80 deals in 2003 to a record high of $57.5 billion spread over 869 trades in 2021. We should note that the exact number of trades and trade volume varies by source, but all agree that 2021 was a record year.
As the economy slowed in 2022, insurance industry mergers and acquisitions also cooled. However, the industry "remained resilient" compared to M&A activity in other sectors of the economy – with agency and brokerage activity driving insurance M&A at a much higher rate than insurers.
Why do insurance companies participate in M&A activities?
The biggest reason an insurance company will undergo mergers and acquisitions is to increase market share. They can accomplish this by merging with or acquiring an insurance company with a footprint in an entirely new geographic region, new industries, or both. Sometimes insurance companies will seek to acquire others in an attempt to swallow a business they see as valuable competition, which they would rather have under their own roof than compete against.
Insurance companies also see opportunities to reduce operating costs and overheads through M&A.
Why do insurance companies participate in M&A activities?
In many cases, insurance company owners see acquisitions as the best exit strategy when they are ready to retire. If an insurance agent has built a successful agency with a large and valuable book of business during their career, selling the agency to a larger agency can be an attractive proposition. On the other hand, larger agencies often want to expand their reach into new states and new industries, and the easiest way to do this is often to acquire an existing insurance agency that brings the desired qualities into the mix.
Why are mergers and acquisitions attractive compared to organic growth?
Organic growth may be the gold standard for a healthy business, but mergers and acquisitions can help a business grow and get off the ground quickly without needing to staff, train, or implement new technology. In the best case scenario, the acquiring company can begin to see an almost immediate return on its investment with an already profitable company now under its umbrella.
What are some downsides to insurance mergers and acquisitions?
Sometimes M&A creates redundancies, both in people and systems. Spending time and money figuring out how the newly formed business unit will function when merging two previously independent companies, or how one company will absorb the operations of another, can be a downside of mergers and acquisitions.
Having the right insurance technology in place can lead to more successful mergers and acquisitions
This may not seem obvious, but when undergoing a merger or acquisition, insurtech is important. For companies looking to be acquired, already using modern insurance infrastructure means potential buyers have a clear picture of what they will be getting from an operational, financial and compliance perspective. With AgentSync, for example, an insurance agency looking to be bought can provide potential buyers with a complete, real-time, accurate view of the compliance status of every manufacturer working under that agency.
For companies looking to buy or merge, having the right technology stack will mean spending far less time moving data by hand. Equipped with the right systems in place, this already means that integrations and automation can help take the burden off human employees who would rather be doing more important work during the M&A process.
Whether you're considering M&A in your organization or not, check out AgentSync's suite of solutions to modernize your insurance business.
Substances
Mergers and acquisitions
Source link