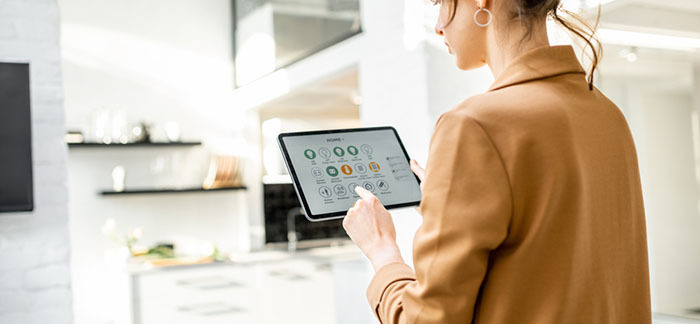 When you think of a smart home, what comes to mind is a picture of a home equipped with many devices and appliances that can be remotely controlled. However, a smart home can mean different things to different people.
For some people it means buying something as simple as a smart speaker, while for others it means upgrading a home with many interconnected smart devices. If you are considering upgrading your home with smart devices, this article will give you all the information you need.
In the following sections, we will look at some smart home upgrades that you can do yourself.
What is a smart home?
A smart home is basically a home that has a remote controlled smart home system, which helps to automate tasks. Smart home devices can be built into a home or added in the form of upgrades later.
Smart home devices can be controlled in various ways, such as remote controls, voice commands, apps, switches or even artificial intelligence. When you make your house "smarter"
; by adding smart home upgrades, it can help you streamline your chores and also save energy costs.
DIY Smart Home project
If you are wondering about some smart home projects you can implement yourself, here are some great suggestions to get you started.
Smart locks
You may want to consider installing a smart lock in your home that allows you to open doors remotely. It will save you the hassle of getting up every time you have to open the door for guests.
Most smart locks range from $ 150-300 and can be used with one app. Some advanced smart locks also come with face recognition technology.
You can easily install these smart locks in your home with the help of a screwdriver.
2. Smart light bulbs
Installing smart light bulbs is a fairly simple home project that can be done easily. What's better is that it does not require any tools.
Most smart light bulbs sell for around $ 8, while the advanced ones can cost around $ 50. They usually come with color-changing modes that can be remotely controlled using an app. Some smart light bulbs also support voice commands.
You do not need any additional hardware to install these bulbs. All you need to do is screw in the light bulb in the sock and connect it to your device using the app. Oh voila! You yourself have a smart home with remote-controlled light bulbs.
3. Smart thermostat
If you want to save on heating / cooling costs in your home, upgrading to a smart thermostat can be a great option.
Smart thermostats range from about $ 100-250 and are usually equipped with energy-saving mechanisms to help you save money.
Installing a smart thermostat is a fairly simple home project. All you need is a flat-blade screwdriver, a screw gun and a drill. You can follow the instructions in the manufacturer's manual to install the cables.
4. Smart water sensors
Smart water sensors can be attached to water heaters, washing machines and other appliances that have common leakage problems.
Smart water sensors typically range from $ 40-400, depending on the area you want to cover. These are great additions to your home if you have problems with leaks and floods from time to time. Some sensors can also detect temperature changes, which can help combat the problem of frozen tubes.
No additional tools are required for this project either. All you need to do is install a battery-powered Smart Water Sensor and connect it to an app to get alerts when there are any leaks.
5. Smart sockets
This is another great device for saving energy and money. Smart sockets usually range from $ 12-60 and can help turn things on and off remotely.
You do not need any tools to install the smart sockets either. All you have to do is install them in the existing socket and set the functions you want to remotely control.
Source link