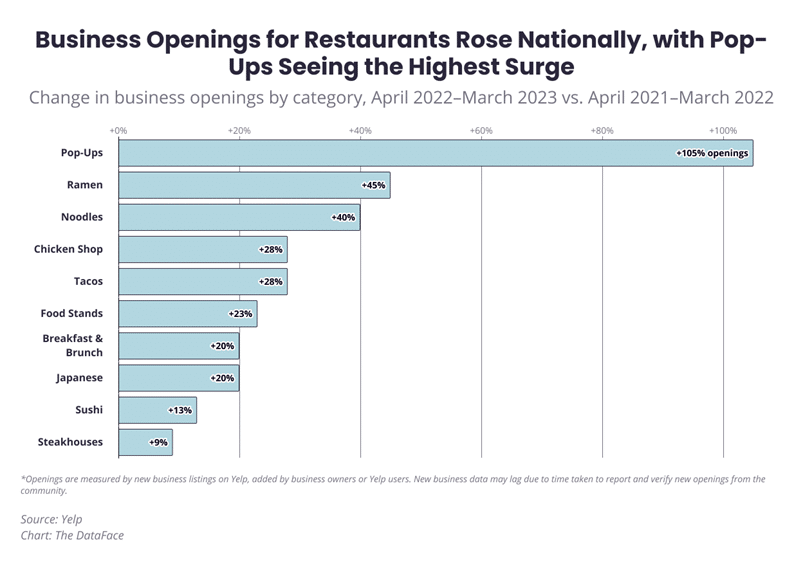 Pressure creates a climate of change in the restaurant industry. After a few difficult years, pundits would have expected restaurants to be in significant trouble. All the same factors that affect insurance companies affect restaurants in the same way. Talent is in high demand and not easy to find. Increased inflation causes a reordering of customers' priorities. At the same time, inflation affects supply costs for restaurants – both in terms of food and food packaging. Ordering technology is changing. Customers even change the time of day they like to eat out.
But the pressure doesn̵
7;t make restaurants go away; it just makes them change. According to Yelp's 2023 State of the Restaurant Industry report, restaurant business openings nationally increased in April 2022-March 2023, compared to the previous year.[i] Shopping and beauty care are industries in decline, but consumer spending on restaurants continues to rise.
However, the real evidence of customer and business changes in the industry comes from looking at the types of restaurants that are opening and growing. (See Fig. 1). Pop-ups are by far the biggest growth sector, a sign that people are constantly looking for new and original options in restaurants. Their needs are met by agile, entrepreneurial chefs and investors who have their fingers on the pulse of culture and cuisine.
Pressured by costs, talent, inflation and changing customer preferences, the industry's new leaders are the ones who moved quickly to create new concepts. Restaurants used to be known for their consistency, but the new restaurant culture is one where the only consistency is steady innovation.
Figure 1: Changes in restaurant business openings
Where are today's industry pressures driving the insurance industry?
To find out where the insurance industry is focused, Majesco surveyed consumers, SMEs and insurance companies. Insurance surveys can give us insights into how "in touch" they are with their customers, market and technology trends, and how quickly they are reprioritizing and implementing these changes. Rising risks have the potential to cut and significantly disrupt businesses and people. Increased extreme weather events, natural disasters, cyber, crime and more are having an increasing impact. For the insurance companies, this means higher claims and lower profitability, but it also means greater needs and opportunities. Are insurers creating a path for themselves that will drive better risk assessment, profitability and claims reduction while increasing market share through product and service innovation? Majesco documented some of these findings in our thought leadership report, Game Changing Strategic Priorities Redefining Market Leaders.
Do the insurance companies view the complications of the change negatively or do they optimistically view the opportunities that the change creates?
For example, an insurance gap is currently growing in part due to one high-level factor – property value escalation. The rapid increase in real estate prices leaves most people and commercial businesses without adequate coverage and they don't even realize it. In November 2021, it was reported that the median price of existing single-family homes rose in 99% of the 183 markets tracked by the National Association of Realtors in the third quarter, with double-digit price increases in 78% of markets.[ii] In recent years, property prices have risen from 15% to over 30% on average, with some markets even higher. Due to the competitive housing market, many properties were not inspected, leaving unidentified risks for both the insured and the insurer. The result is the likelihood that many property owners are underinsured given the rising costs to repair or rebuild, posing a potential challenge to insurance companies.
The impact of this lack of coverage is a major concern for insurance companies – from a customer satisfaction, reinsurance and profitability perspective. Insurers need to look at their wider property portfolio and find new, innovative ways such as digital loss control and new data sources to assess risk, predict impact and initiate loss prevention strategies more accurately and precisely – all areas Majesco focuses on with our solutions – Loss Control and Property Intelligence . Likewise, these are things that insurance companies should do regardless of the pressure to change. There are two sides to the insurance opportunity – business optimization and market innovation. Both will use improved and new technology.
Personalized pricing with data
Based on insurer survey responses, there is currently very little innovation in the use of new data sources for either personal or commercial property insurance, as shown in Figure 2. This highlights a major disconnect between Gen Z and Millennial consumers and small and medium businesses that have a large interest in these options. Likewise, Gen X and Boomers were very interested in the IoT-based option of using data from connected devices in their buildings/facilities, and consumers were very interested in seasonally adjusted prices and using data from connected devices in the home.
This highlights a major opportunity for insurance companies. Given the growing gap in coverage due to the rapid increase in property prices, insurers can bridge the gap by using loss control assessments and new data sources to identify opportunities to increase coverage and address a potential lack of adequate reinsurance coverage for the books.
Figure 2: Use of new data sources for commercial and personal property insurance
Looking at innovation trends for leaders, followers and laggards
This pattern of limited innovation in using new data sources for real estate pricing continues even among leaders, as seen in Figure 3. Although leaders and followers are more actively considering seasonal pricing, it is still not to the planning/pilot stage, and the other three the options are only at the consideration stage.
Further property valuations and insurance rate hikes are expected in 2023 due to a confluence of factors – exasperating an already undervalued property portfolio. With loss-prone catastrophe accounts suffering from tighter capacity, difficult reinsurance renewals and rate increases of 25% or more,[iii] there is an urgent need for innovation in property insurance regardless of whether you are a Leader, Follower or Laggard.
Insurers that move to execute these options have an opportunity to differentiate themselves from the competition in this tough market. They can firmly establish themselves as leaders in the industry, no different than Progressive did 10 years ago in auto insurance.
Figure 3: Use of new property insurance data sources by leaders, followers and laggards
Innovation in value-creating services
Compared to new data sources, private and commercial property insurance companies show somewhat more innovative thinking in value-added services. Several options are very close to the planning/pilot phase, especially sensor and data-based warnings as shown in Figure 4.
Alerts and monitoring devices/services such as smoke/CO2, water leaks, equipment failure sensors or severe weather and workplace/home threat alerts promote safety and enable insurers to eliminate or reduce risk and subsequent claim costs. If insurance companies did more loss control surveys – digitally this would provide a risk assessment for their customers to help guide them in what they can do to reduce risk. This is something the Pennsylvania Lumbermen's Mutual Insurance Company has done as discussed in a podcast with Erin Selfe. Customers appreciate any service that can give them peace of mind or critical information about their property risks.
All of these options are highly sought after by consumers and SMEs, giving insurers an opportunity to proactively meet customer needs and expectations and build loyalty while helping to manage and avoid risks that can help overall profitability more effectively.
Figure 4: Development of value-added services for commercial and personal property insurance
Leaders, followers and laggards approaches to value-added services
Once again, leaders stand out in their pursuit of value-added services to complement their core risk product, with seven of the eleven (64%) options above or within just a few points of the planning/pilot phase seen in Figure 5. In contrast, followers and laggards significantly behind which, like car insurance, hurts their ability to create value and differentiate their offerings beyond a low-price focus.
Today's increased catastrophe, market environment and pressure on profitability require a greater focus on preventable losses and better results through underwriting profitability, proactive risk mitigation to minimize or eliminate claims, and expanded value-added services that assist with risk management and improve the customer experience.
Figure 5: Development of value added services for property insurance by leaders, followers and laggards
Charting new paths
So the question remains…is today's level of innovation and investment sufficient for insurance companies to attract and retain today's customers? Where are today's pop-up opportunities in products and services? Which companies are doing something truly original and innovative and using the full power of data and analytics?
The data suggests that most insurers would like to meet customer expectations and appetite for new products and services, and are considering greater use of data and technology to optimize risk assessment and claim prevention – but their strategic priorities are not necessarily aligned to getting there to happen. Where is your company on these issues?
Most people need a plan and a partner to give them the momentum to compete.
What gaps are you ready to fill?
Insurers looking to proactively reduce claims and improve prevention should be quick to take advantage of loss control technologies such as Majesco's loss control, data and analytics with Majesco Property Intelligence or Majesco's acclaimed Intelligent Policy for P&C. Insurance companies across all levels and segments leverage Majesco's solutions and commitment to relentless innovation to optimize their operations but also innovate. Our research provides insight into our R&D and priorities to help our customers stay ahead of the curve.
"Majesco continues its market leadership position with their recognition as a beacon in the Majesco Policy Technical Capability Matrix for P&C," said Karlyn Carnahan, Head of Insurance, North America at Celent. "The Luminary Award recognizes the solutions that stand out both in terms of advanced technology and broad functionality.
Carnahan adds, "Majesco Policy for P&C is recognized as a leader in this category as a strong SaaS solution in the cloud, with extensive capabilities for personal, commercial and specialty lines, rich API catalog, a "customer panorama view" that contains information about an existing policyholder's billing data and claims experience, open to a wide ecosystem of third-party data and functionality partners, and pre-integration with Majesco's "property intelligence score" (which provides multiple risk metrics) and loss control survey capabilities."
For more information on how Majesco helps customers become more competitive every day, contact us. To review how your strategic priorities align with the strategic priorities of other insurance companies, be sure to download the Game Changing Strategic Priorities Redefining Market Leaders.
---
[i] Yelp Data Reveals Nationwide Restaurant Wasting and Rising Interest in Fine Dining as New Restaurant Openings Increase, YelpEconomicAverage.com, June 21, 2023 [ii] "Home Prices Spiked in Nearly All Metro Areas in 3Q 2021," National Mortgage Professional, 12 NOV 2021, https://nationalmortgageprofessional.com/news/home-prices-spiked-nearly-all-metro-areas-3q-2021 [iii] Wilkinson, Claire, "Property insurance rates to keep surging in 2023," Business Insurance, 10 Jan. 2023, https://www.businessinsurance.com/article/20230110/NEWS06/912354781/Property-insurance-rates-to-keep- surging-into-2023
Source link