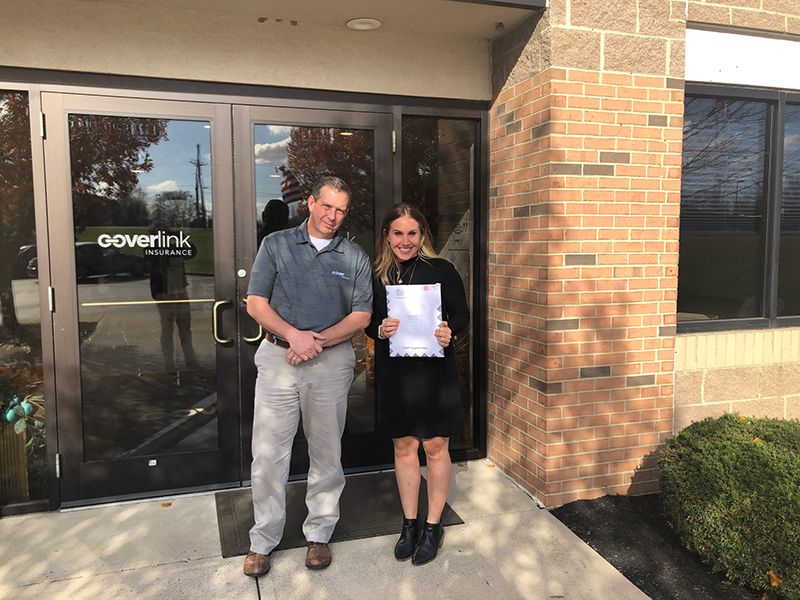 Pictured above: Mark Osborne, Senior Insurance Advisor & Kelli Young, Director of Marketing.
Hey! My name is Kelli and I made an extremely common but potentially devastating mistake when it comes to life insurance.
Let me give you some background – I grew up in the insurance world. My father took over CoverLink Insurance (then known as Hill & Hamilton) when I was 11 years old. I spent time after school helping with odd jobs, working there during my college vacations and more. It was in 2015 that I joined the CoverLink team full time.
Am I a licensed agent? No. But based on my childhood and my current career in marketing for an insurance agency, I would say that I have a decent amount of knowledge when it comes to insurance.
This leads me to September this year ̵
1; life insurance awareness month. When preparing content for our clients on life insurance, I came across a rather astonishing statistic:
"Only 59% of Americans have life insurance, and about half of those with insurance are underinsured, according to [19659007] LIMRA . One problem is that nine million households only have group life insurance. That is usually not enough. LIMRA estimates that people with group life insurance only have average coverage gaps of $ 225,000.
Was that me? Was I one of the nine million who just had group life insurance? I got up from my desk, walked across the hall to Mark's office (our life insurance expert) and sat down. I embarrassingly admitted to him that I had no idea how much our group life insurance offered or if it would be enough for my family's lifestyle in the event of my death.
Here I was, 37 years old with a 7, 5 and 4 year old and working man and I was grossly underinsured. I had no life insurance beyond what our group offered. And I work for an insurance company – I should know better!
I asked Mark what I already knew the answer to. "Was our group life insurance sufficient for my family and our lifestyle?" Mark responded kindly with: "You probably need more; let's look at your options.
Mark lost what he was doing and within 20 minutes he had explained all my options, had made some cost comparisons and I was working on my life insurance application.
Furthermore, the process was a complete breeze. I got a call within a few days about planning my health check and they even offered to adjust my schedule by coming to my home to perform the screening. A week or so later, a kind woman came to my house, screened, and even spent time chatting with my children. She was in and out within 30 minutes.
A few weeks later I received a message from Mark that my life policy was approved, they would be here soon and we would complete everything.
That was it! The whole process took a month – from the application to the completion of my paperwork.
Why do I admit this embarrassing mistake? So you do not end up like me. With hope, my mistake can help you do the same.
Do not assume. Do not be like me and assume that you have enough coverage and that everything will be okay; not with something as critical as life insurance. It can make a world of difference for your family if you are away.
Do not be embarrassed. There were so many times that I considered talking to Mark about my own life insurance, but I was embarrassed that I did not know the subject. But Mark has been working with life insurance for over 15 years. He has a wealth of knowledge and is always willing to help. And for him, no life insurance issue is stupid.
Do not avoid it. Life insurance can be a difficult conversation to have with your loved ones. I avoided the subject because I did not want to deal with it and thought it was not necessary until I was older. But if you have a family, a mortgage and other loans, you need life insurance and you need to inform yourself. . And luckily for you, he is here to help you too! With Mark, no life or health insurance issue is stupid. He is great at explaining your options in a way that is easy to understand. He will make sure the process goes smoothly and be there with you every step of the way. For him and all of us here at CoverLink, you are family! Call him today.
Source link