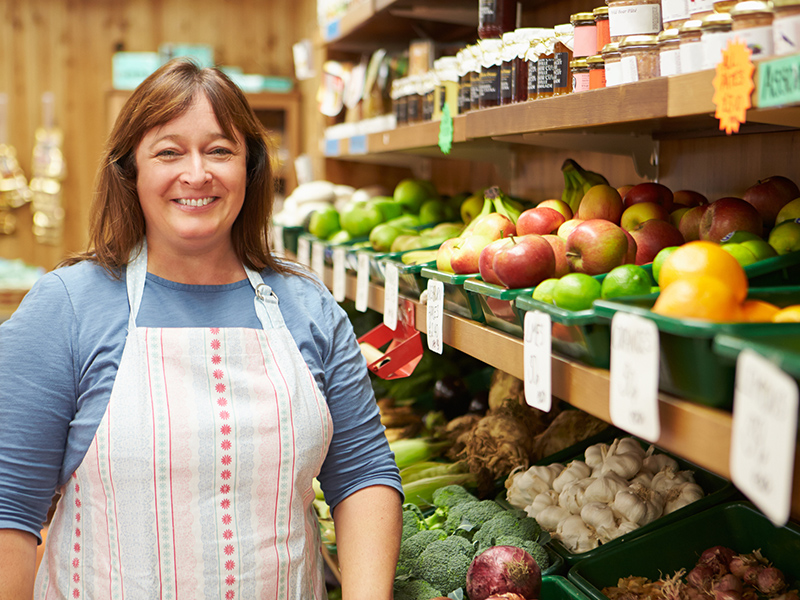 Running a grocery store presents many challenges. After all, grocery store owners are responsible for keeping their customers happy with high-quality foods and fostering a positive work environment for their employees. In addition, the grocery business carries several liability, employee safety and property risks – all of which can lead to costly injuries. This is why it is important to have proper loss control measures in place. This resource explains key risks grocery store owners must address and provides helpful strategies they can use to prevent potential claims.
Local responsibility for grocery store owners
First, it is important for grocery store owners to ensure that their properties are suitable for customers. Whether customers are walking the aisles or carrying their grocery purchases through the parking lot, all it takes is one mishap—like a slip—to result in a costly accident lawsuit. To avoid such liability issues, grocery store owners should maintain these measures:
Keep the parking lot in good condition through regular inspections and maintenance. Make it a priority to fix potholes, cracks and other slip or trip hazards as quickly as possible. Ensure adequate snow removal and de-icing protocols are in place throughout the property during the winter.
Ensure all floor surfaces remain clean and dry. Place waterproof mats at all property entrances to avoid slipping and tripping from excess moisture during adverse weather conditions (eg rain, ice and snow).
Ensure that all emergency exits are properly marked and clear of obstructions. Instruct employees to never block an exit—even temporarily. Signs on the property that clearly describe emergency evacuation routes and procedures.
Implement a safe and secure shopping cart design. In particular, enclosures should be designed to prevent shopping carts from rolling away and colliding with pedestrians or vehicles.
Keep the aisles clean and organized at all times. Make sure the aisles offer enough space for shopping carts to pass. Refrain from using product displays that lack stability or pose potential hazards.
Use appropriate signage and safeguards to prevent customers from accessing potentially hazardous areas (eg food preparation area or equipment storage).
Personnel security
As with all employers, grocery store owners must protect their employees from illness and injury on the job. Specifically, it is important to protect employees from common occupational hazards (eg, sharp objects, hazardous chemicals, and hazardous equipment) to prevent potential incidents. With this in mind, grocery store owners should implement these employee safety practices:
Train employees in safe chemical use ̵1; especially when it comes to cleaning chemicals. Be aware that mixing incompatible chemicals can create volatile reactions.
Ensure all applicable deli and bakery equipment includes appropriate safety guards. This includes items such as slicers and blenders.
Purchase box cutters with adequate safety features to minimize accidental scratches or cuts. Train employees on the proper use of box cutters.
Have employees use ladders, pallets, or escalators to access or store items in elevated areas. Train employees on the correct use of ladders, pallets and escalators. Make sure these items are properly designed and inspected routinely. Replace these items as needed.
Require employees responsible for outdoor activities (eg, retrieving shopping carts from enclosures) to wear visible clothing and appropriate footwear. This can include reflective vests and non-slip steel-toed boots.
Ensure that employees responsible for operating hazardous equipment (eg forklifts, saws and balers) receive adequate safety training and are at least 18 years of age.
Implemented operational responsibility
Because grocery stores often provide fresh food products to customers, exposures to completed business liabilities can be significant. In particular, customers may face costly legal action if they are sold expired products or experience foodborne illness as a result of consuming spoiled or contaminated items. Furthermore, it can be challenging for grocery stores to recover from the reputational damage that often accompanies such an incident. Therefore, grocery store owners should use these precautions to minimize exposures to completed operations:
Ensure that all refrigerators remain at a constant temperature of 40 degrees Fahrenheit to prevent food spoilage problems. Keep refrigerators in good condition and reduce potential breakdown risks through regular inspections and maintenance.
Store food products in fully sealed and properly labeled containers. Such labels should include the product name and expiration date.
Use appropriate protocols to track the shelf life of fresh produce. Discard expired items immediately.
Store all applicable food products (eg, meat and poultry) in accordance with US Department of Agriculture guidelines. Train employees in safe food handling practices and how to avoid cross contamination issues when working with raw meat.
Ensure that all prepared foods are thoroughly and safely cooked.
Adopt an effective workplace hygiene program that includes regular cleaning of all food preparation and storage areas. Maintain pest control to prevent infestations.
Property damage
Grocery stores are subject to various property exposures – particularly fire, equipment and structural damage. Whether due to inadequate maintenance procedures or a lack of prevention protocols, property damage can cause significant disruption and is often accompanied by costly repairs or replacements. As such, grocery store owners should consider these steps to limit the risks of property damage:
Use commercial grade range hoods that are fully capable of capturing grease-laden fumes along with all applicable cooking appliances. Have these covers professionally cleaned on a routine basis. Depending on cooking operations and frequency, fans should be cleaned every two years, quarterly or as recommended by a cleaning staff.
Install an Automatic Extinguishing System (AES) above all food preparation appliances that have the potential to generate flames. Have the AES regularly inspected and serviced by a qualified professional.
Keep the property's sprinkler system in good working order through annual inspections and routine maintenance. Implement fire department connections (FDC) outside the property to allow the local fire department to supplement the sprinkler system's existing water supply during a fire. Separate FDCs with proper signage and ensure they remain easily accessible.
Place fire extinguishers of class ABC throughout the property. Keep extinguishers on a regular inspection and maintenance schedule. Train employees on how to use fire extinguishers safely.
Have the cooling system routinely inspected for potential leaks or other damage and serviced by a qualified technician.
Develop an appropriate housekeeping regime to protect the property from becoming cluttered or disorganized. Make sure the debris is removed promptly to prevent build-up problems. Prohibit empty storage pallets from being stacked to excessive heights, as this can cause tipping hazards.
We can help grocery store owners
It is important for grocery store owners to use effective risk management measures to mitigate costly insurance claims and lawsuits. Doing so can offer many benefits – including greater customer satisfaction, fewer liability issues, a safer work environment and reduced risk of property damage.
While this resource outlines a range of loss control strategies, grocery store owners do not have to navigate their risk management programs alone. Working with a qualified and experienced insurance advisor can make a big difference.
We know the industry, we understand your needs and we work with several insurance companies so that we can deliver the insurance solution that is perfect for your business and your budget.
When you have confidence in your business insurance, you have greater peace of mind knowing that you can continue working to generate revenue, even when disaster strikes.
To get started with your customized solution, contact one of our licensed advisors, or request a proposal and we'll get started right away.
Source link