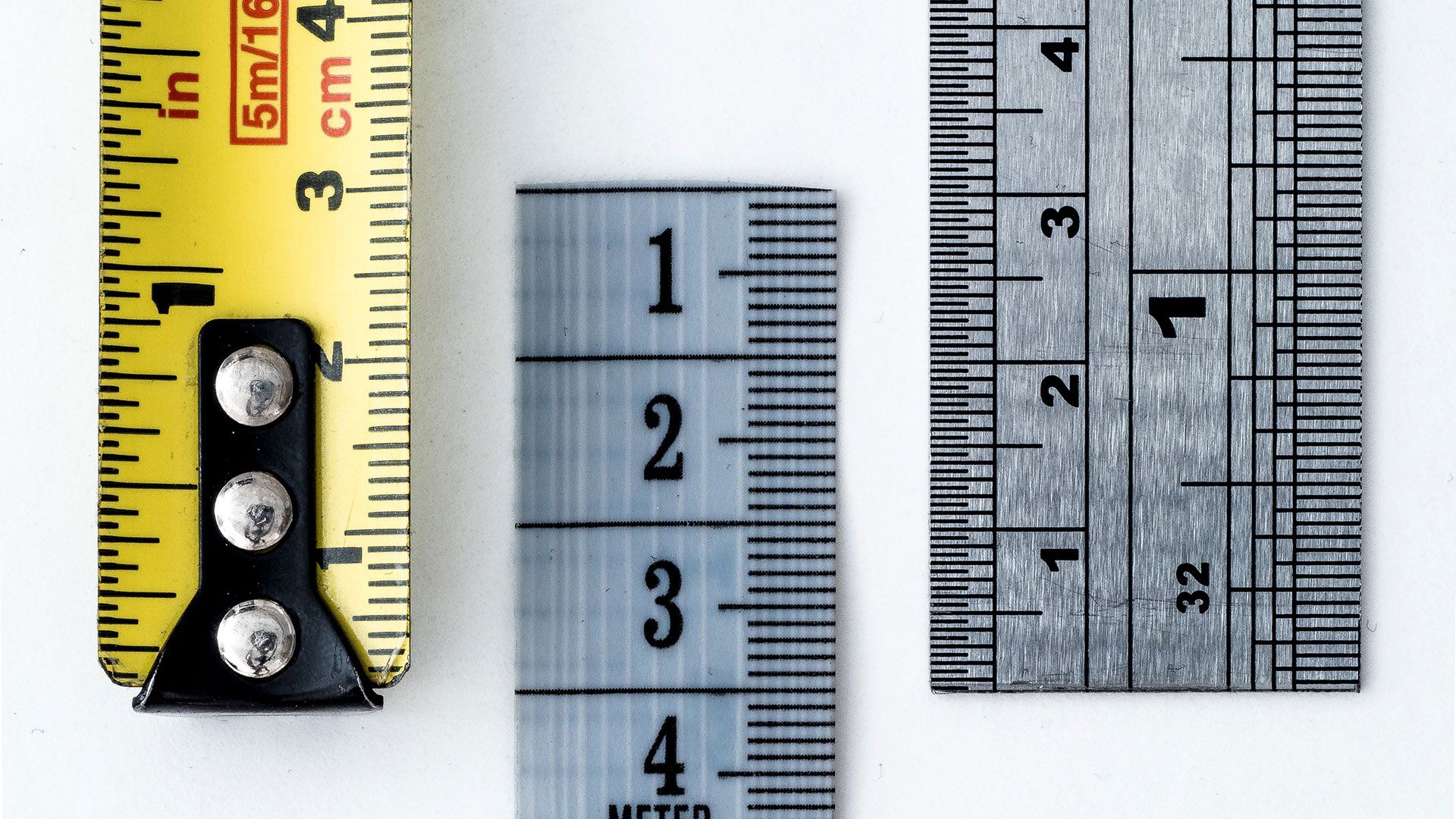 Competitive gaps are not normally the result of just one issue. They are about dozens of small challenges, all of which contribute to enormous competitive pressure. COVID-19 has exacerbated many of the challenges that have driven leaders, followers and laggards further apart. When the gap begins to grow, it is difficult to reverse speed and reduce the gap.
Business with a blindfold
The REAL question, however, is that most insurance companies do not know why there is a gap – there are many factors to consider, many interrelated. Laggards may have a vague sense of what is holding them back. Followers can try to emulate or catch up with leaders without a complete understanding of what is required. Even leaders may not have the right perspective on what keeps them going. It's a dangerous place to be. Are insurers certainly in the middle of market demand, balanced with internal / external adaptation, ready to take advantage of opportunities? Or … are they so far away from the center that they stand on the edge of a cliff? Most executives would like to know where they are.
Last week we began to take a closer look at how insurance innovation has been strengthened by the COVID-1
9 crisis. Insurers have climbed to answer and have picked up the pace in the planning and implementation of business transformations. Majesco's most recent thought-leadership report, Strategic Priorities 2021: Despite Challenges, Leaders Widen the Gap, Carefully Examine the Real Levels of Knowledge, Planning, and Acting Among the Insurers Surveyed. The aim of the report is for insurers to weigh their own organizations against those surveyed to reveal where they are on the spectrum and then adjust their planning and priorities to take the necessary steps to become leaders and remain leaders.
Gaining Perspective
The first step to successfully responding to change and disruption is awareness and appreciation of internal and external challenges and knowing where your organization stands on each one in relation to critical internal ones (e.g. strategic objectives) and external (eg current competitors) reference points. Leaders reveal advantages over successors and laggards in their focus on internal and external challenges that are reflected in the major gaps revealed in our research on strategic priorities.
Internal Challenges
The 21% cumulative gap between leaders and laggards on 11 internal challenges was with large differences on several individual challenges, including Change Management (41%), Digital Capacity (40%), Adaptation of IT and business strategies (31%), Older systems (28%) and Data and analysis functions (26%). The gap between digital capacity highlights Laggard's readiness for rapid change in a digital world, and one that is increasingly making them competitive.
Interestingly enough, the two segments were identically focused on Aging labor / retirement which was 10% ahead of followers. This is not surprising given the significant older business processes, channels and systems that depend on those who retire. The only other meaningful gaps, each with 16%, are in the Work Environment after COVID (above) and Budget . Otherwise, the followers generally follow with leaders with only 7% cumulative gap. (See Fig. 1)
Figure 1: Deviations in levels of concern about internal challenges

Evidence of Followers' concentrated efforts to keep pace or reduce the gap with leaders over the past three years is shown by a large jump in the gap from 2018-19 to 2019-20, followed by the gap decreased by 50% this year. In stark contrast, Laggard's gap in internal challenges doubled.
Changing the benchmark
Some insurers will look at these internal challenges and say, "Well, we know what our issues are. We just need to address these issues and we will return to a competitive position. "It's not that simple. Unfortunately, it is the external problems that drive much of the pressure and many insurance companies do not fully understand how the external affects the internal. Before we start looking at the external pressure and how we can reduce the gap, we should look outside the insurance for a while at the concept of benchmark.
In the investment world, some investments, such as mutual funds, use benchmarks. average. The comparison fund is a kind of mirror for investment funds. If your fund beats the benchmark fund, things are going well. If it does not comply with the benchmark, something may be wrong. But the two funds are normally very close in nature with an equal distribution between investment types.
But what if someone took one of your funds and swapped the comparison fund for an outrageous high-performing fund that is focused on new market trends and requirements and did not look like your fund at all? Would you diminish your efforts, or would you reevaluate your market focus and trade your investments to find investments that look like the new, impressive benchmark?
This is essentially what's happening in insurance right now. The benchmarks we have used (known traditional competitors and similar companies in insurance) are becoming less relevant as growth indicators. There are new sources of competition in the market that are reshaping the insurance business and have the potential to make our previous investments look sub-optimal. Are we investing to reach outdated benchmarks, or are we waking up and recognizing a new level of competition?
Recognizing the strength of the new insurance benchmarks is what will encourage insurers to make the investments that will reduce the gap. With this in mind, let's look at the external challenges.
External challenges
The gap between laggards and leaders is larger in relation to external challenges (figure 2). One of the biggest gaps is around new sources of competition (new benchmarks!). This is a dangerous blind spot.
In particular, the gap between Laggards and Leaders is almost 50% for these four challenges:
New competition from InsurTech, startups, MGAs, etc .: 48%
The increase in direct sales (B2C and B2B) : 46%
New competition from technical giants outside the insurance industry: 43%
Increasing competition from traditional insurance competitors: 42%
Followers are more in line with leaders in these four, but lag behind New competition from InsurTech (12%) and Increase in direct sales (10%). In fact, their relatively small cumulative gap of 9% to leaders is somewhat obscured by an "average" of small single-digit gaps on six of the numbers and slightly larger double-digit gaps on the other six numbers, something we did not see in the internal challenges. The biggest gaps for Followers indicate potential blind spots that need to be addressed to keep up with Leaders:
COVID impact on target markets: 26%
Rate of change: 16%
Changed customer expectations: 13% [19659023] Increased market availability for new / innovative insurance products: 12%
Figure 2: Deviations in levels of concern about external challenges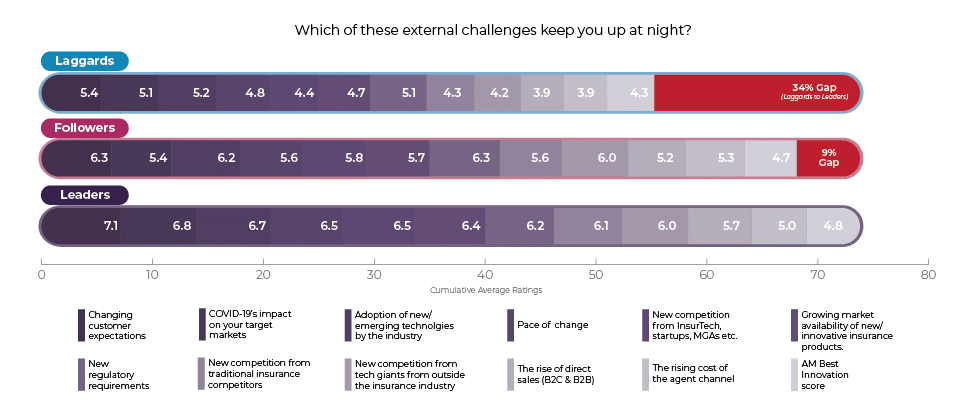 Despite this somewhat twofold set of external challenge gaps, successors reduced the gap with leaders by almost 50% compared to last year's survey — likely to recognize new benchmarks! But laggards continue to lag behind as their gap to leaders increased by over 50% from 22% to 35% over the past three years.
Game-Changing: Planning for a 2-Speed ​​Strategy
Success in moving from the past to the future of insurance requires a two-speed strategy: Speed ​​of Operations, which focuses on improving the current, traditional business model with the next generation of mature systems and processes; and Speed ​​of Innovation, which is about creating flexible, fast and new business models that explore, test and grow new business opportunities.
In Majesco's report, we find that Leaders continue to excel with a stronger focus on strategic initiatives that support both components of the two-speed strategy.
Speed ​​One: Modernizing and Optimizing Today's Operations
Drilling into the specific elements of Modernizing and Optimizing reveals a large 35% gap between Leaders and Laggards. The two main drivers of this gap are Development of a digital strategy (45%) and Scaling of operations on a cloud platform (60%). Surprisingly, followers have a significant gap to leaders on the latter of 34%, more than twice as large as the total difference of 15%.
The gap around the cloud platform is particularly worrying. In our new digital age, technology and business are fundamentally inseparable. Cloud technology is now a given, APIs make it possible to easily compose technology, AI and ML help the company make "smart" decisions, digital experience creates unique and personal commitment, and no code / low code eliminates complexity and accelerates the digital transformation journey that we described in our report, Insurance platforms – the platform for digital and no code / low code .
SMA has tracked cloud capture for the past eight years. In their report P&C Core Systems Purchasing Trends they noted that 2018 was a watercourse year with three of four new core systems used in the cloud . [i] And in 2019, they reported that the assumption hit a new high water mark, with 84% of the new nuclear systems in the cloud. They note that cloud is now a fundamental requirement in the digital world, and that it grows as we enter the new era of computers where every new technology trend, from AI and big data to micro-services and the connected world , is increasingly dependent on clouds.
Figure 3: Gap between leaders, followers and laggards in modernizing & optimizing priorities

The gap between modernizing and optimizing between leaders and laggards increased significantly from 9% to 35% in the last 3 years, the theme continues we see that Laggards end up further and further behind. Leaders build future finished platforms. Followers move, but less quickly. Laggards barely moves from the status quo.
Speed ​​two: Creating a new company for the future
When we consider finding new benchmarks for our industry, it only makes sense that established insurance companies must respond to new technical technologies. smart competitors by using innovative new business launches. Laggards falls drastically behind with a huge gap of 84% ! The gaps in the individual strategic initiatives range from a low level of 50% for Innovation (which was a new addition this year) and 152% for Access to new capital markets . Access to new capital markets is a challenge for many of the mutual insurers and limits what they can do, especially in a time of significant capital being invested in InsurTech and other digital technology companies.
Big Gaps Under ] Engagement / Partnership with InsurTechs (94%) and Adding / Offering New Non-Insurance Services to Customers (80%) is also Strong Evidence on Laggard's shocking weakness in innovation speed. . This gap reflects their focus on the past rather than the future – a dangerous blind spot that suggests weak prospects for continued relevance or survival. A rapid refocusing and a two-speed business strategy is the only strategy that can close this gap because we need today's business to succeed so that it can also finance the new business
Figure 4: Interruptions between leaders, successors and laggards in creating new business priorities

The differences in planning priorities between leaders, successors and laggards stand out in Majesco's research. While many followers can keep up with the leaders in modernizing and optimizing the existing business, which is often reflected in strong finances, this is deceptive when you think about the future business that is needed – where Followers and Laggards do not plan effectively and end up behind.
Leaders continue to differ from the other two segments with their stronger focus on strategic initiatives that support the two-speed strategy. The rest of the insurance companies must accelerate their planning and turn it into which makes to remain relevant, let alone viable for the future.
Does your organization follow a two-speed strategy for modernization, optimization and innovation? Do you wake up to new benchmarks and realize that something needs to change? Majesco Digital1 pcs Ò Insurance is a cloud-based platform for rapid transformation and new business development. It meets mission-critical needs for digital customer engagement and improved digital ecosystem participation.
In our next blog, we go beyond knowledge and planning to discuss actual implementation activities. How do insurers implement a two-speed strategy that will accelerate digital transformation? Where are the insurers according to customers' expectations? We share new statistics on trends and technologies that help leaders become the new benchmarks for the insurance industry. For even more details, download Strategic Priorities 2021: Despite Challenges, Leaders Widen the Gap.
---
[i] "P&C Core Systems Purchasing Trends: Basic Techniques to Drive the Transformation Journey," Strategy Meets Action, May 2019.
Source link