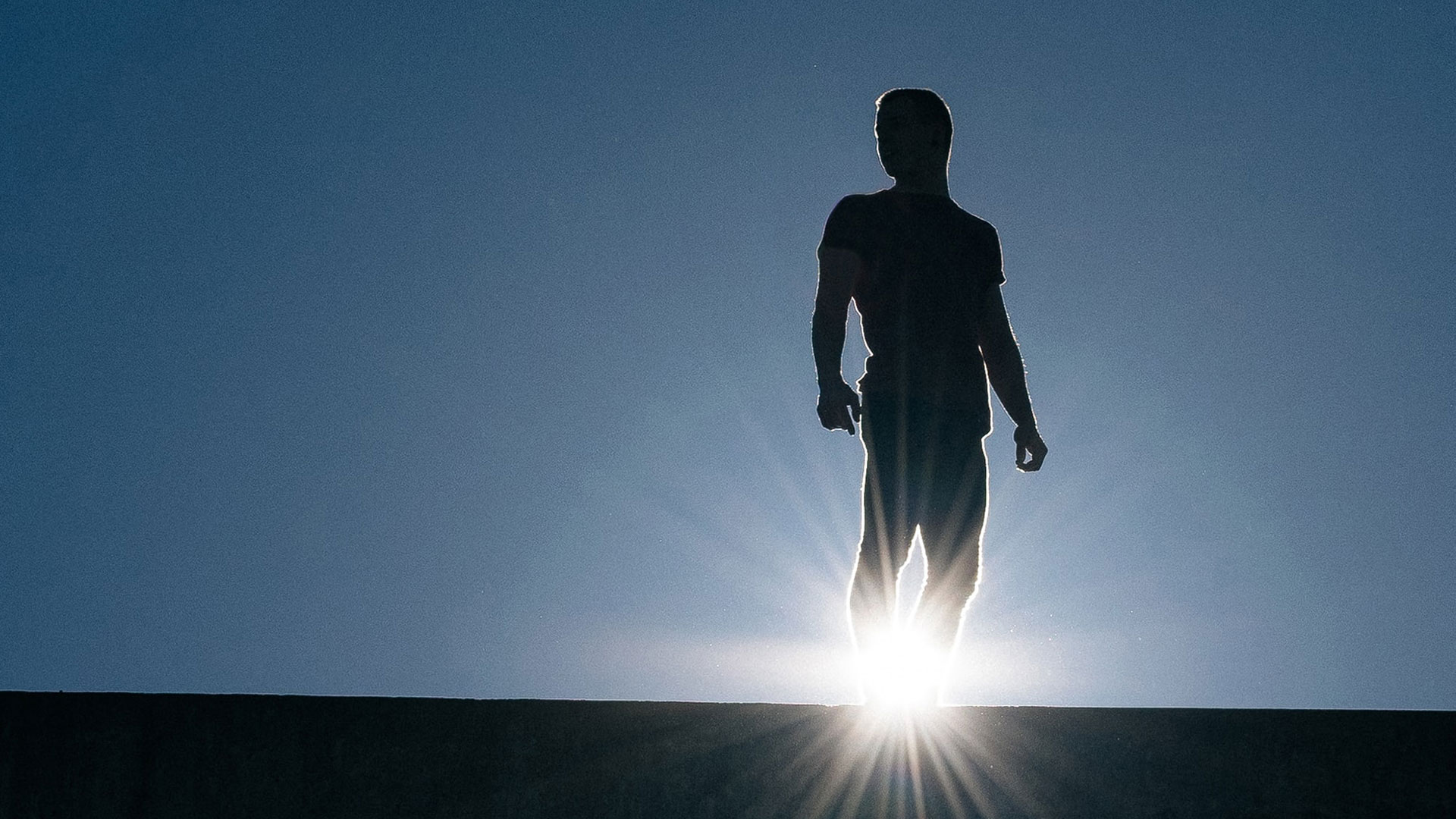 It's like a scene from an action – packed Marvel thriller! The threatened hero is chased down the street but sees a way to escape. It's an alley. (We all know not to go down the alley, but the hero does not listen to us.) At the end of the alley is a brick wall. (We all knew there would be a wall or a fence or an iron gate.) There is no way around the wall. Our hero will need to be innovative in a hurry, find and use his superhero features! They save the day. Save people. Save the world.
That's what COVID has done to almost every industry. It chased companies into corners. It threatened their markets. It even built brick walls in perfectly good alleys, which separate unprepared companies from the customers they need.
Sometimes, however, it is the crisis that makes the necessity a reality. Think about it. The pandemic has erased any doubts about the need for insurance digital transformation. With rare exceptions, working digitally is the only way to do and keep working. It is "going digital" or staring at that wall until the unthinkable happens.
And this is where superhero features come into play for insurance companies!
Some insurers take advantage of their superhero effects. They are the leaders . When COVID rewarded the insurance industry with the ultimate learnable moment, they took the lesson to heart. When someone built a brick wall between them and their customers, they used innovation and transformation to make the wall irrelevant. They are focused on today's business at the same time as they create tomorrow's business ̵
1; they work quickly with multifocus, unlike others.
Some insurance companies try to keep pace or catch up. These are The Followers . Determined not to let the leaders get too far ahead, followers follow the lessons from COVID and they launch new initiatives and make changes to ensure their success. They focus strongly on modernizing and optimizing today's business; however, they are less focused on creating future business. But they continue to fall behind.
Some insurers have a tight spot. They face some tough dilemmas. These are Laggards . Laggards generally understands the market dynamics but has clearly stuck to the past and has not succeeded in quickly going to planning and implementation across a number of strategic areas – even for its operations today. They do not move to new cloud platform solutions or contain platform and emerging technology. They keep their business focused only on the past, rather than the future. If not already, they are approaching a downward spiral of relevance that is almost impossible to reverse.
Majesco's first report from 2021 Strategic priorities, based on the results of the survey by COVID insurance companies, shows a dramatically increasing gap between leaders and laggards – 64%, an increase of 20% compared to the year before – when looking at their focus on key strategic initiatives over the past year. Followers "trampled water" to keep pace with the previous year – with a gap of 12% to leaders.
To understand in more detail the growing gaps, the 2021 Strategic Priorities second report, just published, evaluates how insurance companies handle the necessary transformation in the midst of growing challenges. In today's blog, we look at the details of this gap. What is it that leaders and followers and laggards do differently? What can insurers do to ensure that they position themselves to become or remain leaders?
Despite COVID challenges, leaders widening the gaps
The COVID crisis seemed to come from nowhere and blinded the world to the power of a tsunami. Suddenly, the "usual" way of doing things no longer worked. Adaptability is the new innovator. COVID-19, for example, reduced or eliminated "personal" time for agents, which added a layer of difficulty to distribution. Those who were willing to switch digitally for everything from communication to support lead generation through alternative channels and launch new products despite quarantines were better able to turn plans into action.
What did the leaders do differently?
A key to reducing the drastic effect is the ability to quickly adapt the planning – both the plans themselves and the process of creating and changing them. Throughout history, we often see that the difference between success and failure is directly related to the ability to evaluate, reinvent and adapt to the current environment. While COVID forced companies to adapt, the leaders took advantage of the situation. Leaders exercised their adaptability to a much greater degree than followers (25% gap) or Laggards (34% gap), as shown in Figure 1.
Figure 1: The effect of COVID-19 on annual planning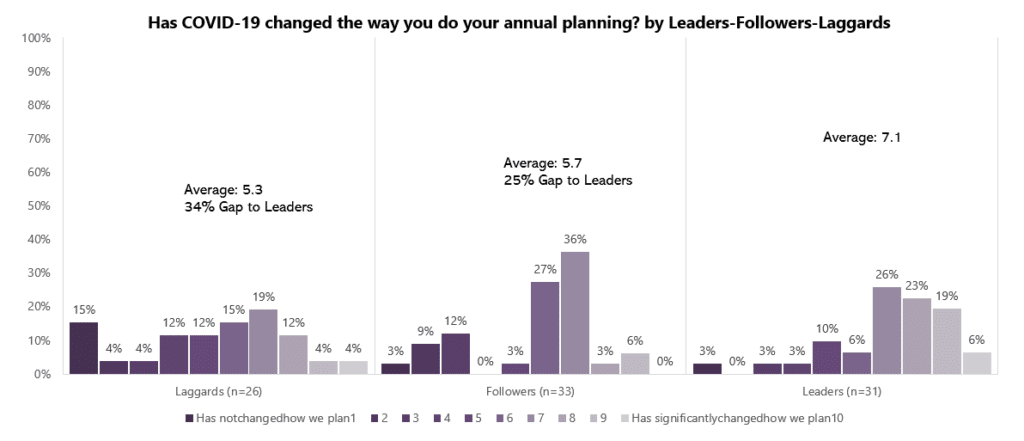 Leaders are also more in contact with COVID's potential internal and external effects on their companies. Externally, their awareness of the impact on their customers was 26% higher than followers and 33% higher than Laggards' (Figure 2), a crucial insight and strategic difference between leaders and those who follow them.
Leaders know that they can not assume that the customers they serve today need or want the same products and services tomorrow … or that the same customers even will be there tomorrow. Leaders are constantly monitoring the changing demographics and dynamics and making short- and long-term adjustments to adapt and thrive in an ever-changing market. If their current target markets are negatively impacted by COVID, they know they need to adapt their product and service offerings, develop new channels, seek new markets and more.
Statens försäkringsbolag last year
COVID was an intestine. punch for all three segments in 2020. Leaders, Followers and Laggards all had setbacks in their companies' growth and strategic activities compared to 2019. Overall, Leaders (-12%) and Followers (-10%) saw similar declines, but Laggards (-24 %) was twice the leaders' decline, which highlighted their unpreparedness for the crisis (Figure 2). However, the leaders' response was to counteract and adapt with new strategies for planning that are supported by a greater awareness of the business implications.
Awareness and adaptability play a role in responding to change.
Figure 2: COVID-19's impact on growth and strategic activities last year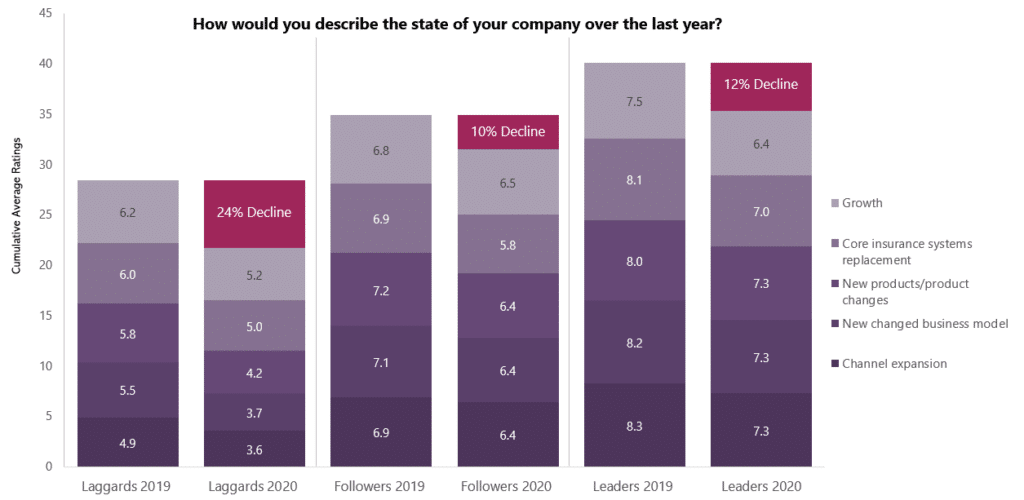 Despite setbacks last year, leaders continue to dominate with 12% lead over Followers and a striking 64% lead over Laggards, as shown in Figure 3.
Leaders and followers were almost identical in their view of business growth in the previous year, but the leaders were on average a difference of 15% compared to followers on all other factors. The largest gap (21%) was in Maintaining / replacing core systems and the smallest (12%) was in a new factor that was added this year, Allocating resources to ordinary companies / changing how we do company .
Figure 3: Gaps between leaders, successors and laggards in assessments of business growth and strategic activity last year

Digital difference
However, the large gap between leaders and laggards was due to four key factors reflected in Figure 3 – all of which are linked to digital transformation and create business for the future:
Channel expansion : 103%
New business models : 97%
New products / services : 74%
Redistribution of resources : 70%
These gaps reflect a very different strategic attitude between leaders and laggards, one that is completely focused on the future and adapts to market challenges while the other gets stuck in the past, tries to survive but ends up further behind.
The distance between leaders and laggards this year is the largest we have ever seen, more than doubled in size since we started tracking these segments 2018-19. On the other hand, the gaps between leaders and followers have been stable or slowly shrinking when looking at these in terms of the past year. But that gap is deceptive because it shows challenges when you look three years old. The gap between Laggard's and both Leaders and Followers reflects a stark reality that Laggard's lack of awareness, planning and implementation puts their survival and relevance at increasing risk – something they understand the consequences of well.
This scenario is consistent with an article by the Boston Consulting Group (BCG) from December 2018 on how some companies successfully navigated disruptions and created value and earned the title "thrivers." [i] It says that successful reinvention requires a great deal of effort – one that can overcome the pull of the old way of doing things. Making the big bet requires leadership, confidence and expertise to eliminate the "knowing – doing" gap. Those who wait – the laggards – must make larger and potentially risky investments to get parity with the "early respondents" (leaders). As leaders accelerate growth, the gap between "knowing – doing" is growing, leaving Laggards with declining alternatives and relevance in a rapidly changing market.
The article from 2018 seems prophetic in our current pandemic-dominated environment, as illustrated by this quote:
"In a time of technological revolution, changing legislative priorities and rapidly changing consumer expectations, most companies will face some kind of disruption in their industries or core markets. Some management teams expect the upcoming changes and respond quickly. Others, slow to respond, will eventually have to deal with a more mature threat. The speed of response is important. Early movers can experiment with new companies and models. Those who wait have diminishing alternatives and, as our new research shows, they have to make much larger, more concentrated efforts to navigate the disruption. "
Speed ​​plays a role especially during disturbing changes.
Has the COVID crisis stimulated your organization or has it supported your planning in a corner and caught your transformation list under a pile of priority revisions? Do you use your superhero functions or do you continue on the same path?
Majesco helps insurers break down the brick walls that keep them isolated from new products and new markets in a matter of weeks. We prepare insurers to meet customer requirements for a new type of insurance relationship by quickly tracking digital features that are important.
Next week, we'll take a closer look at the opportunities that COVID provides insurance companies – enabling managers to restructure how they plan and focus on steps that make the business more resilient and better prepared for new business. You can learn more about the insurer's business in the face of the crisis by downloading Majesco's latest White Paper, Strategic Priorities 2021: Despite Challenges, Leaders Widen the Gap.
---
[i] Farley, Sam, "Facing Disruption? The need to reinvent? Better move fast. Boston Consulting Group, December 4, 2018
Source link