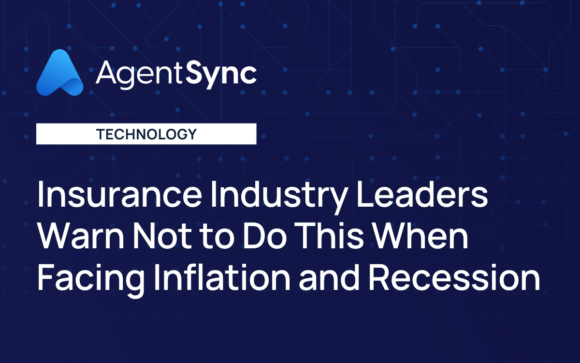 This post is part of a series sponsored by AgentSync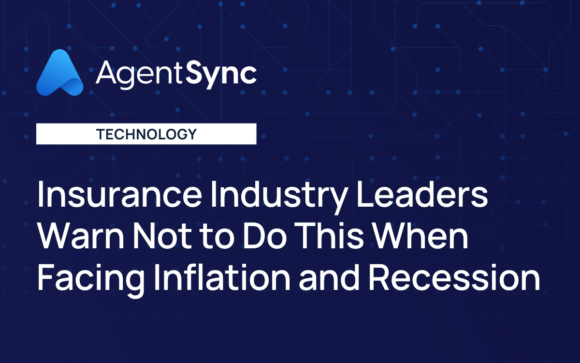 If the US or global economy goes into recession, it won't be the first time – and it won't be the last. Despite the urge to take the foot off the gas, insurance industry leaders warn that it would be a mistake to stop investment in modern insurance technology. This is true both for private equity and venture capitalists, and companies that need to invest to modernize their outdated infrastructure.
Uncertain economic times and insurtech
Whether a recession is on the horizon, and how deep it might be, is still up for debate. Given a long list of mixed economic indicators (i.e., the slowing but still high rate of inflation, strong consumer spending, low unemployment rates, massive layoffs and uncertainty about future capital investment), insurance executives are wondering what this means for their own businesses.
Should insurance companies save money by avoiding major investments in modernizing their technology?
Should private investors and venture capitalists sit on the sidelines and watch things unfold as the need for insurtech innovations increases?
Should insurance agencies, struggling to find and retain talent, continue to ask staff to do things they've always done and hope for the best?
According to industry experts, the answer is a firm "no". Instead, they argue, it is important for the insurance industry to continue to evolve towards a fully modern and digital future state. Those who don't, they warn, risk falling behind and not catching up.
How financial uncertainty affects VC investment in insurtech startups
It's 2023 and the world is abuzz with headlines about the falling levels of startup investment and the drying up of venture capital money. While it's true that VC investment has fallen from a couple of years of record highs, the reality from insurance industry sources in the market is that investors still have a pretty big appetite for insurance innovation.
According to Dan Israel, executive director of the Iowa-based Global Insurance Accelerator (GIA), the insurance industry remains ripe for investment.
"The companies that will continue to succeed, even as startups seeking investors, are the ones that can find a way to get revenue faster and strengthen their company's fundamentals," Israel said.
GIA serves as a metaphorical greenhouse for early-stage insurtech startups. With financial backing and mentorship from some of the industry's most established carriers (Grinnell Mutual, Farm Bureau Financial Services and Allstate, just to name a few), Israel said GIA teaches founders the business fundamentals they need to succeed in an established and complex industry as insurance. For GIA, this means driving startups to solve real problems and create a sustainable and profitable business model, which is more important in today's environment than ever.
As for whether investment can and should continue as the economy faces newfound uncertainty, Israel said: "There's always going to be something. If it's not inflation, it's covid, or a recession, or a change in government policy. Smart investors, successful investors , are the ones who continue to call the shots and drive innovation. Because the industry needs to innovate in the way it works to reduce risk and reduce costs precisely because the economy is uncertain."
How economic uncertainty affects insurance companies' investments in technology
The technical difficulty for older insurance companies
Some carriers are seeing how investing in insurtech can help them thrive in a turbulent economy. Grinnell Mutual is a property casualty insurance company founded in 1909 and headquartered in Grinnell, Iowa. In 2015, they were a GIA founding investor, demonstrating their ongoing commitment to investing in insurtech innovation.
The longevity of the company gives leadership a unique perspective on the importance of continuing to invest in technology solutions that improve customer interactions, operational efficiency and the underlying functionality of the business.
"Current economic and investment conditions have meant that insurers like Grinnell Mutual must carefully evaluate spending across all parts of the organization," said Dave Wingert, vice president and chief operating officer. "The investments we want to make in insurtech, along with our overall technology solutions, are subject to particular scrutiny in this economic environment."
"However," said Wingert, "we generally feel it is important to continue to invest in the areas that will provide significant value, rather than arbitrarily delaying projects until economic conditions improve. Our goal is to be prudent without being short-sighted ."
Technological investment from digital-first insurtechs
At the other end of the spectrum, Pie Insurance was founded in 2017 to make the experience of purchasing workers' compensation insurance easier for small business owners, and has expanded into other lines since then.
When Pie's co-founder and CEO John Swigart spoke about the impact of the current economy on its own investments in technology — even as a self-identified insurance engineer — Pie's responsible strategy focused on the same business fundamentals that Israel instills in its GIA startup founders emphasized.
"We've seen some insurers struggle in recent years, in part due to an overinvestment in technology to drive rapid growth and user experience improvements, while ultimately neglecting the underwriting fundamentals and performance metrics," said Swigart. "Technology is part of the foundation that we're built on, so regardless of the state of the economy, it's not something we'll ever shut down or stop our investment in. Instead, we remain focused on using it to grow in a healthy and sustainable way. way."
This approach, making smart investments in technology that will drive core business goals rather than shutting down the flow of cash to insurtech, is the common thread for both investors and insurers.
How investments in insurtech can benefit carriers and agencies above all during a tough economy
It's often tempting to view new technology investments as low-hanging fruit for budget cuts. But as industry leaders like Israel, Wingert and Swigart warn, this approach can have unintended consequences that inhibit long-term growth.
"Technology can enable people to do their jobs better by streamlining and automating manual tasks that no one wants to do anyway," said AgentSync Founder and CEO Niji Sabharwal. "With everyone looking hard at budgets and trying to prepare for leaner times, it's imperative not to ignore how a short-term cost, like adopting a solution that makes everyone more productive, can yield long-term gains."
Sabharwal's perspective is consistent with recently published research from The Jacobson Group, which found in its 2023 Insurance Talent Trends that many insurance and finance companies have failed to meet their hiring goals in recent years. The report said that as repetitive tasks become automated, the industry can leverage its current talent at higher levels. Simply put: As we move forward, a small pool of highly skilled insurance talent will have their pick of companies and likely won't choose companies that throw them back into repetitive, busy work.
For this reason, if no other, the brightest minds in insurance say 2023 is not the year to stop investing in insurtech.
Substances
Leadership market
Source link