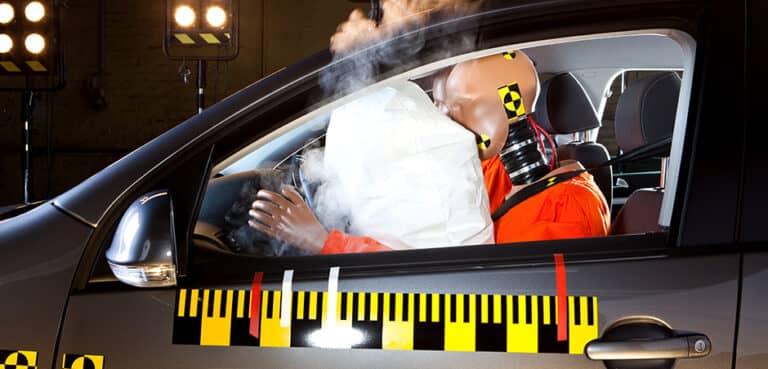 If safety is a top priority when driving, look no further than the 2023 Insurance Institute for Highway Safety's (IIHS) TOP SAFETY PICK award list for your next vehicle.
This year's list of 48 awardees is smaller than previous years, naming 28 models as a TOP SAFETY PICK+ and another 20 vehicles as a TOP SAFETY PICK. This is due to stricter criteria and stricter requirements for crash protection and prevention systems.
In the annual TOP SAFETY PICK awards, the IIHS announces which new models performed best in its evaluations. The list is organized by size and type on the IIHS website.
How is TOP SECURITY PICK determined?
Each year, the IIHS, a nonprofit research and education organization, conducts tests to determine how vehicles fair in two safety aspects: crashworthiness and crash avoidance/mitigation. It also evaluates other aspects of vehicle safety, such as headlight ratings.
The IIHS awarded winners in 8 size categories, from small cars to large pickups.
All award-winning models received "good"
; ratings in six crash safety tests and offer trims (packaged groups of features) with front crash protection systems with "advanced" or "superior" ratings. Each winner must also have at least one headlight system rated "good" or "acceptable."
This year, the IIHS updated its side crash test with an updated evaluation that launched in 2021. TOP SAFETY PICK qualifiers must receive an "Acceptable" or "Good" and "Good" is required for the Plus category. A new evaluation has been added for TOP SAFETY PICK+ recipients: a vehicle-to-pedestrian crash prevention test at night. Advanced or superior performance is required in both day and night pedestrian tests for the higher award. Vehicles that scored Advanced or Superior for the day test only received the TOP SAFETY PICK.
The headlight requirements increased for the base award again this year. Previously, only TOP SAFETY PICK+ recipients were required to have "good" or "acceptable" headlights as standard on the vehicle. Now it is a requirement for both awards. If you're looking to upgrade your headlights and aren't sure where to start, check out our guide.
Roof strength, head restraints and vehicle-to-vehicle frontal crash prevention evaluations are no longer part of the award criteria. This is due to industry advances that have made these tests less relevant. Consumers can expect further changes to the award criteria in 2024.
The winners of the 2023 BEST SECURITY PICK
This year's 48 overall selections are true standouts in crash safety and crash prevention, according to IIHS President David Harkey.
Toyota Motor Corp., which includes the Toyota and Lexus brands, received the most 2023 awards overall and the most awards in each category — nine TOP SAFETY PICK+ and six TOP SAFETY PICK awards for a total of 15. Honda Motor Co., which includes the Acura and Honda brands , was next with six TOP SAFETY PICK+ and two TOP SAFETY PICK awards. Mazda received six TOP SAFETY PICK awards.
By class, midsize luxury SUVs earned the most TOP SAFETY PICK+ awards, with nine, and small SUVs earned the most awards overall, with four TOP SAFETY PICK+ and eight TOP SAFETY PICK awards. But vehicles of almost all sizes and classes made the cut, including plug-in hybrids and all-electric vehicles.
For the full list of winners and ratings, visit iihs.org/ratings.
Insurance for new and used cars
Car shopping doesn't just mean kicking tires and taking test drives. It's also an ideal time to research your car insurance options. For both endeavors, here are some articles from our blog that can help:
At ERIE, we want to help you find the right coverage for your ride – regardless of whether it's new or used. Contact us today to start the conversation.
ERIE® insurance products and services are provided by one or more of the following insurers: Erie Insurance Exchange, Erie Insurance Company, Erie Insurance Property & Casualty Company, Flagship City Insurance Company and Erie Family Life Insurance Company (home office: Erie, Pennsylvania) or Erie Insurance Company of New York (home office: Rochester, New York). The companies within the Erie Insurance Group are not licensed to do business in all states. See the company's licensing and business information.
The insurance products and rates, if applicable, described in this blog are effective as of July 2022 and are subject to change at any time.
Insurance products are subject to conditions and exclusions not described in this blog. The policy contains the specific details of coverage, terms, conditions and exclusions.
The insurance products and services described in this blog are not offered in all states. ERIE life insurance and annuity products are not available in New York. ERIE Medicare supplement products are not available in the District of Columbia or New York. ERIE long-term care products are not available in the District of Columbia and New York.
Eligibility will be determined at the time of application based on applicable underwriting guidelines and rules in effect at that time.
Your ERIE agent can offer you practical guidance and answer any questions you may have before you buy.

Source link