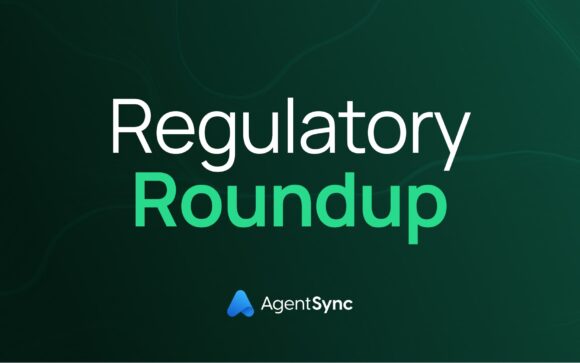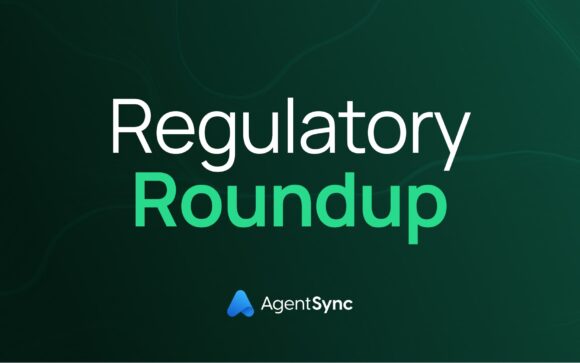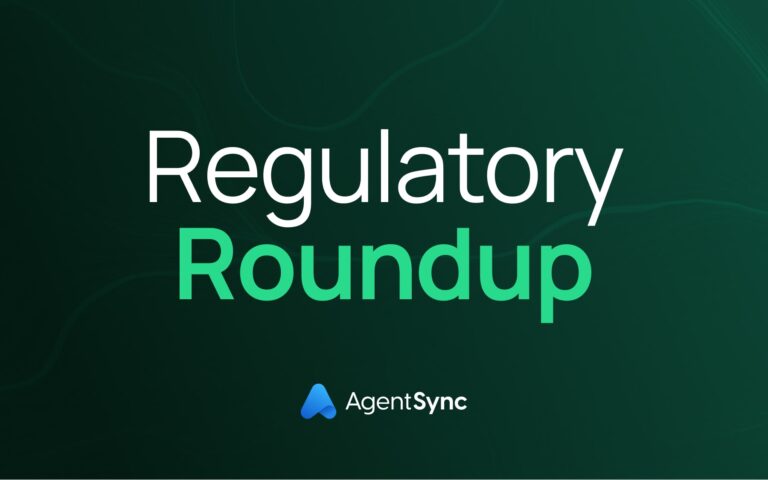 This post is part of a series sponsored by AgentSync.
Variations in laws, compliance protocols, industry transparency and general regulatory cultures can give the impression that keeping up with changes in the industry is a bit like herding cats. So, what better way to wrangle some of the more localized insurance news than in a Regulatory Roundup?
On an ongoing basis, in no particular order or rank, we grapple with the various regulatory changes, compliance actions and commissioner decisions in our summary. As a disclaimer: There is a lot going on at any given time in these here United States, so this is not a comprehensive picture of state-level action by any means. Think of it instead as a test plate of regulation.
Health care sharing ministries face scrutiny
Healthcare Sharing Ministries (HCSM) are not insurance. But if someone were to try to figure out how to regulate them, the closest business model is, well, insurance.
The recent spate of sharing ministry bankruptcies, as well as consumer misconceptions about what is or isn't covered by health sharing ministries, or even consumer misconceptions about whether an HCSM is insurance (still isn't) have led to increased regulatory scrutiny in recent years.
After the prominent collapse of the Sharity HCSM in 2021, both Washington and Colorado have worked to help consumers understand what HCSM is and is not.
Colorado's governor signed legislation this year that will require health care sharing ministries, plans or arrangements to collect and report relevant data such as administrative costs, payments and reimbursements and the number of enrolled residents to the state. Addendum to the rule includes provisions requiring HCSMs to shield some of their data from disclosure requirements to preserve some confidentiality.
In August 2022, the state of Washington adopted regulation of HCSMs that would better define them, set parameters around data reporting and transparency, require certain member protections in the event of acquisitions or mergers or bankruptcies, and also very clearly distinguish them from actual insurance. Washington's insurance commissioner has been anxious to write something about HCSMs for some time.
While the details may not fascinate everyone, if you're one of those absolute geeks about insurance, you might want to scroll down on the rule and read the public comment and who submitted it. Notably, while some of the HCSMs claimed this was targeted harassment, others said they welcomed the opportunity to demonstrate their commitment to transparency and ethics.
No doubt this won't be the last we write about HCSMs as the saga of American health insurance (and its alternatives) continues.
Colorado addresses non-renewed policies after Marshall Fire
HCSM is not Colorado's only area of ​​insurance regulatory problems. Announcements from the government in recent weeks also addressed the phenomenon of non-renewed home insurance policies.
The Colorado Division of Insurance issued a consumer alert on August 31, 2022, noting that after the Marshall Fire, more consumers have seen their coverage not renewed. While carriers must provide a specific reason for not renewing and 30 days' notice before the renewal date, there is nothing illegal about carriers dropping policyholders for whom the risk has become too great to insure.
The Colorado DOI also encouraged consumers whose policies have been dropped to shop for coverage, because one company leaves a market or changes its approach doesn't mean all companies have.
The state has also issued an emergency ordinance establishing tolls for claims that take a long time, with the state trying to pressure insurance companies to process claims in a timely manner. The state press release indicates that this ordinance is yet another result of the Marshall fire.
Another recently proposed emergency regulation from Colorado will require carriers to waive cost-sharing arrangements for consumers to access Covid-19 vaccines.
Delaware Updates P&C Guidance for Rate Variance, Allocation of Benefits
Delaware has issued guidance to property and casualty insurers as the state enters storm season.
A bulletin alerts non-life insurance companies to a new law regarding deviations from organization fee notifications. Previously, an insurer that submitted and received approval from the commissioner for a variance from the CRA application would have one year before the variance expired. Now, assuming that the insurer does not change its deviation, the Insurance Department considers that the deviation continues to apply continuously, no renewal is required.
The state has also issued a bulletin that guides casualty insurance companies on how to help consumers navigate the process of awarding benefits to contractors and help consumers distinguish between adjusters and contractors.
Given some states' struggles with contractors, insurance benefit allocation, and public adjusters, it seems notable that Delaware places the public education burden on insurance producers and adjusters.
Other government departments for insurance regulation and legislative changes
Florida has released new, updated personal and commercial policy forms for property and casualty insurance companies.
The Washington State Office of Insurance Commissioner has released the proposed language for a new rule on the electronic filing process for small pharmacy appeals of reporting requirements for pharmacy benefit manager claims adjustments. They will hold a public meeting on the subject at 10 a.m. Washington time on October 18, 2022, or you may send comments to rulescoordinator@oic.wa.gov by October 24, 2022.
Connecticut has kept health insurers' 2023 rate hikes low, reducing insurers' requests for rate hikes by about 47 percent, "keeping insurers at historically low profit margins." A press release from Commissioner Andrew Mais notes: "With my order, profits are limited to 0.5 percent."
Oregon has issued a bulletin that provides property and casualty insurers with guidelines on how to draft policies with language that excludes coverage of intentional acts, to make sure the policy language is not too vague.
Maryland has updated its annuity education requirements for life insurance producers who want to sell annuity contracts; either a four-hour full course or, for those who have previously taken the annuity course, a one-hour course covering the updates to the annuity laws.
The Financial Industry Regulatory Authority (FINRA) issued a reminder that beginning September 6, 2022, FINRA members and registered agents must once again submit fingerprints within the regular time frame. During covid, FINRA lifted fingerprint requirements, but heeeeeeey're baaaaaaaaack.
While these points of interest are not comprehensive, our knowledge of producer licensing and compliance maintenance is. See how AgentSync can help you look smarter today.
Substances
Legislation property damage Colorado
Source link