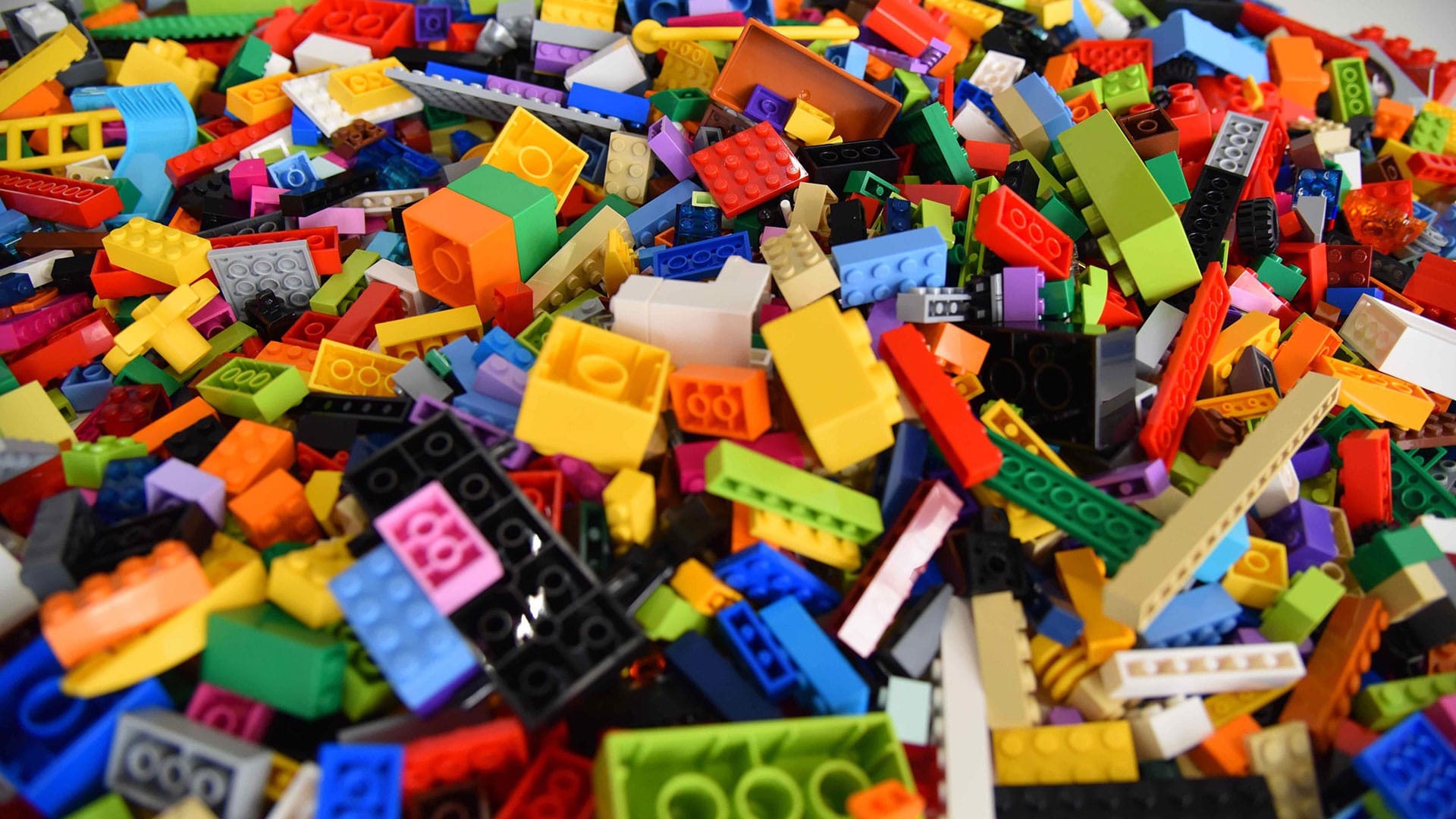 In June 2007, Apple released its first iPhone – a major step for mobile technology and an even bigger step for mobile app developers. The first steps in app development were web apps – websites that were formatted for use in the mobile and launched from the screen with an icon button. But in July 2008, an important thing happened. Third-party developers were invited to the iPhone part of Apple's ecosystem. Apple's head of iPhone software development, Scott Forstall, said: "As of today, we're opening the same built-in APIs and tools we use internally to build all of our iPhone applications." He then described all of the device's features and technologies that developers would have access to, including Core Location data and address data. Suddenly, a platform was an almost immediate bridge from development to new markets. In the same presentation, Steve Jobs introduced the App Store. [i]
The iPhone and App Store gave developers the freedom to develop within an ecosystem that would serve as a pipeline, a marketing tool, and a feedback unit. App developers were players in the ecosystem, but they were also value-creating providers. They did as much for Apple as Apple did for them. MacBooks, iMacs, iPods and iPads may have been the tangible devices in the entire Apple ecosystem, but it was the open development in the mobile ecosystem that gave users more value than the sum of the devices.
An equation that works.
True ecosystems benefit from third-party functionality of platforms, devices, and systems by using ecosystem technologies and data hubs. In some cases, insurers act as the core of the ecosystem. In others, for example in Group & Voluntary Benefits, they are now starting to act as third-party developers. If we consider how each feature of an iPhone became a potential enabler for new products and services, we can extrapolate how insurers are now open to creating a growing range of customer-focused products integrated into employer ecosystems and other entities within their ecosystems.
Almost every lesson during the first years of app development and ecosystem building is applicable to Group & Voluntary Benefits insurers today. We are in the middle of a crucial part of the market development for Group & Voluntary Benefits ̵
1; the point where employment trends, technology, partnerships and ecosystems will radically reconstruct how Group & Voluntary Benefits employees are created, distributed and used. It is currently a vast area of ​​opportunities for insurance products and services teams.
But to take advantage of the opportunity, insurers must adopt a development approach. Technology is the enabler of the ecosystem, as Celent points out in its latest Majesco mission, Next-Gen Platforms in Group and Voluntary: Exploiting New Opportunities Across the Worksite Ecosystem. In last week's blog, we set the stage for our technology discussion by assessing market opportunities and how right the time is for Group & Voluntary Benefits insurers to position or relocate by building customer-friendly technology solutions with real-time, cloud-based processes facilitated by API integrations. In today's blog, we go deeper into the technology and seek further guidance from the Celent report. How have the architectural systems' architectures advanced to enable insurers to participate in the Group & Voluntary Benefits ecosystem space?
A new way to build systems with blocks and layers.
System development, as we all know, is a series of advances and trends. One of the latest trends in digital transformation has been to split front-end tasks and solutions into its own digital warehouse to enable more efficient communication. As fruitful as the aspiration was, it was just a stop-gap solution because the older systems under the digital warehouse would always be less than optimal to enable true real-time access and flexible use. Celent discusses this next shift and builds the next generation ecosystem using a building block.
"Architecture for the ecosystem increasingly requires a building block thinking, where front-end services and back-end services are brought together in an increasingly important middle orchestration layer, abstract critical business logic, package it into a set of reusable services that can be easily consumed and down the value chain and then open up the same services for external partners in the ecosystem for service enrichment, customer proposals, innovation and new distribution. [ii]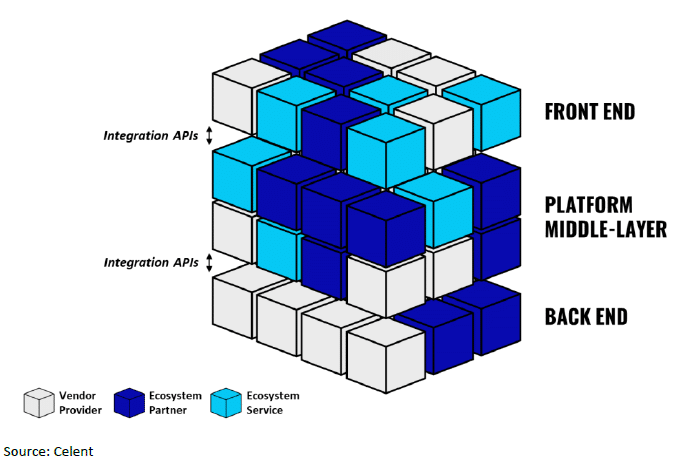 The building block's approach in layered bars makes it much easier to connect the latest developments and microservices – and it naturally enables insurers and products to be equally useful in developing Group & Voluntary Benefits ecosystems. With building blocks, insurance companies live out the entire definition of capitalization. A building block stack enables the technology that then enables the insurer to collaborate and produce with a sense of innovation. Ecosystem activation will make Group & Voluntary Benefit insurers more confident in what they have to offer.
The idea factory for Group & Voluntary future.
An ecosystem is a good idea, larger by ecosystem contributors. This is why insurers want to be part of the Group & Voluntary Benefit ecosystems that have already been created, as well as the ecosystems they can create on their own. These ecosystems will be larger than the individual products, services or features that an insurer can bring to the table. They will be involved in the construction of something remarkable, if they choose to use the right blocks to build. It is the foundation of technology that allows ideas and products to flow. If insurers could choose a basic "style" for their technology, what would that style look like?
Central to ecosystem activation is a business philosophy that advocates ideas and innovation. Redesign of core systems for plug and play is ideal for organizations that yearn for innovation and have the drive to let their ideas take flight. The new ecosystem makes it possible to quickly create, integrate and iterate products from Group & Voluntary Benefits. This means that insurance teams can think big and think fast. But right now, the same organizations need to think ahead to plan for which blocks of the ecosystem they can quickly create, integrate, or leverage with the help of a strategic partner, such as Majesco.
Here is an assessment should be made. Those who are considering entering the Group & Voluntary Benefits space or those who are already players, but who need to expand their services quickly, should look at the direct links between the necessary features and the technology they need to use to provide them. What will be needed? Will the new products need to be linked to existing registration technology, or will they have to stand on their own? How will insurance and policy work? How does follow-up and invoicing work? What are the methods for keeping new products portable? According to Celent,
"Group and voluntary insurers must be able to both modernize and flexibly connect to new distribution and exchanges at will … a digital middleware, supported by open integration APIs, is crucial to orchestrating an engaging customer experience that can put together products and services from across the company and from there. "
Potluck data with a group of connections.
With Group & Voluntary Benefits insurance, one of the biggest ecosystem benefits occurs when you arrive at the party. Insurers do not just take their service or product with them and release it into the ecosystem. In many cases, they also participate in a common data hub that improves the user experience, improves the insurer's experience and enriches their analysis. Celent states that
"For group and voluntary insurers in particular, the ability to combine employer data with employee-generated data, either through smart devices or through enrichment using public sources, is a significant opportunity to tailor proposals and build long-term loyalty. Simply put, a portable, individualized, personally managed and data-informed platform is needed.
And it is not just supplier and employer data that may be available. The potential is that a number of employee units will also become data sources that can be beneficial in improving customer engagement, customer health or reducing risk through improved communication.
Forecasts? Cloudy, with a greater chance of activating.
Each insurer is different, but almost all opportunities and roles available in the new Group & Voluntary Benefit ecosystems will require a hybrid cloud or cloud-based approach. Cloud services open doors to simpler and faster development, better customer service, greater security and improved data management. (For more on this, see our Covered by the Cloud blog by Majesco's CTO, Ravi Krishnan.) Celent points out that
"To take advantage of what the ecosystem has to offer (and avoid obsolescence), many insurance companies now express a preference for focusing on cloud-based solutions from the beginning. That makes sense. You want a system that has been built to take full advantage of what cloud infrastructure and modern connectivity approaches have to offer.
Rapid market changes require rapid decisions and distribution.
At some point in the worker, ecosystem space is favored, the next generation's core and ecosystem will begin to be anchored. Their value will be so complete that employers will be reluctant to go from one core and one ecosystem to another, which means it's time to get in. There will always be room for new products, but once the market swells, insurance companies will want to be at the forefront – already part of the dominant core and ecosystems, and not on the outside, waiting for a turn to come in.
The last benefit of a new strategy for Group & Voluntary Benefits technology is that design and development can happen quickly. Majesco has completed a process that will move Group & Voluntary players from decision to distribution with speed and excellence in the final result. You get new markets, but as you can see from the evidence above, your organization will also get better data, flexible technology, the benefit of experienced partners and the freedom to distribute your ideas through improved Group & Voluntary strategies.
For a closer look at the possibilities, be sure to download the Celent report, Next-Gen Platforms in Group and Voluntary: Exploiting New Opportunities Across the Worksite Ecosystem, and view our recent conversation with myself, Seth Rachlin, Executive VP , Global Insurance Industry Leader, Capgemini and Jamie Macgregor, CEO, Celent, Untapped Market Opportunities for Group and Volunteer Benefits with Different Games, Open Ecosystems and Next Generation Platforms.
---
[i] https://www.youtube.com/watch?v=MfQtnQHLNcs [19659005] [ii] Macgregor, Jamie and Dan McCoach, Next Gen Platforms in Group & Voluntary: Taking New Opportunities Across the Workplace Ecosystem, p. 16, Celent, 26 August 2021
Source link