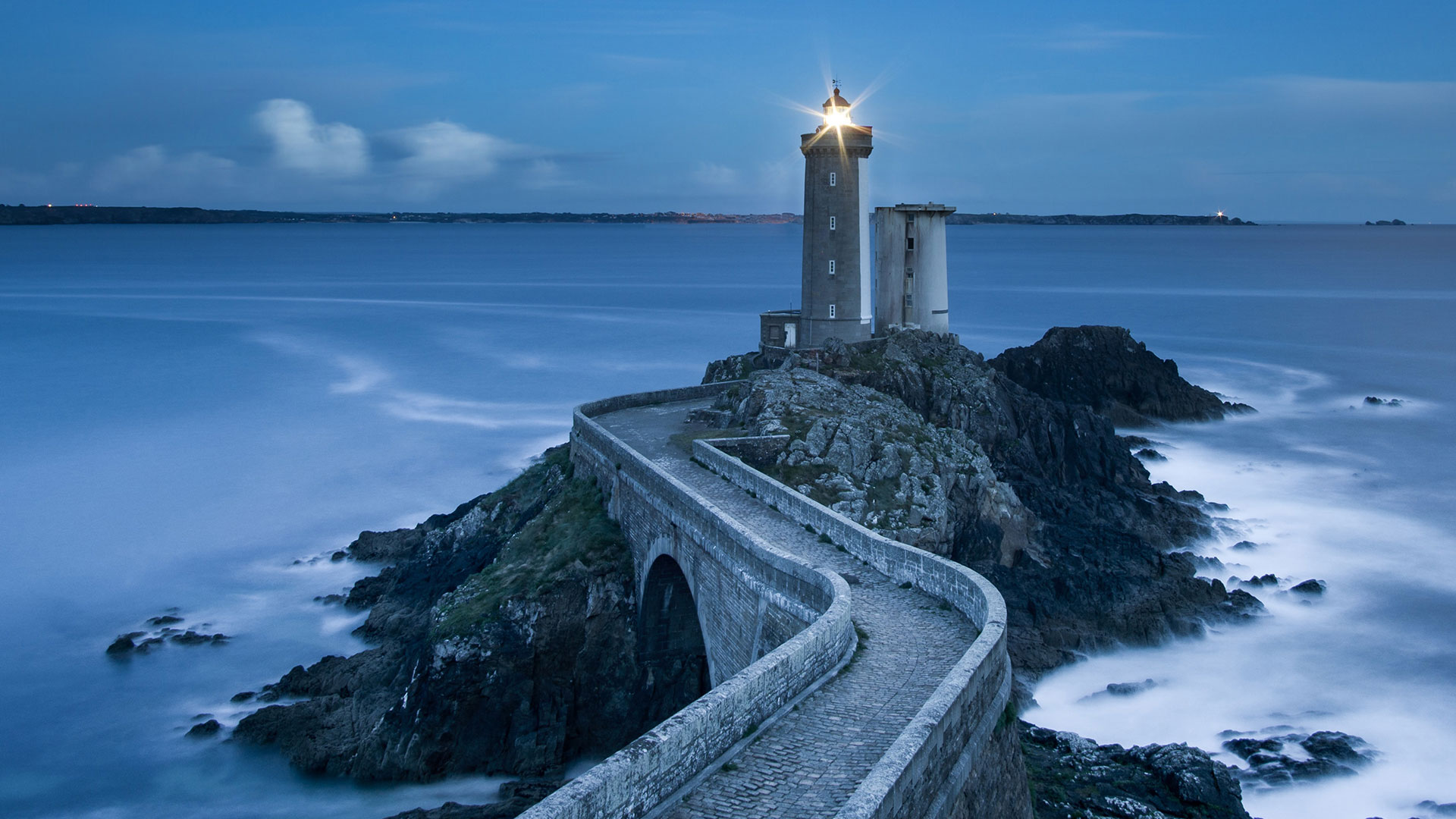 In the 1993 film Groundhog Day Bill Murray plays a Pittsburg transmitter stuck in a loop, played on the same day, February 2, over and over again. The script, written by Danny Rubin and Harold Ramis, was ingenious in its ability to make us think about what we would change in a day if we had an unlimited number of do-overs. Would we repeat the same mistake? Would we be annoyed at playing the same scenes over and over again? Or would we choose to get better at what we do, adapt to solve the problems around us and maybe even try to improve the lives of others?
Even though every day in a distributor's world is different – different people, different coverage , various problems to solve ̵
1; current distribution tools and methods can look the same as they have for several years, even when both insurers and distributors know that there is a better way.
Distributors and insurers wake up every day to achieve their goals in the context of the insurer's current level of distribution maturity. Every day, both sides see the positive and negative with processes that could be better. Do they follow a path that takes them to true distribution maturity? This is an important issue because insurance companies and distributors rely so much on each other. What insurers need, in many cases, is an understanding of what will happen tomorrow if they are willing to make any changes today. Can insurance companies imagine the possibilities clearly enough that they are motivated to change and change something right now, tomorrow and the next day? What will be their efforts to court and retain the best distributors?
Majesco and PwC recently released a report examining this very issue; Distribution management: A path to maturity. The report describes in detail five distinct levels of distribution maturity. What are the inherent characteristics of level 1? What improves at each level? How is learning transferred from one level to business wisdom to the next? Is there a perfect end?
The ultimate goal is that transformation of distribution management will deliver value across three key dimensions:
Improve productivity and the next generation of distributor experience.
Increase operational efficiency and effectiveness.
Improve the insurer's ability to adapt to changes.
Climbing the Maturity Curve (The 5 Stages of DM Maturity)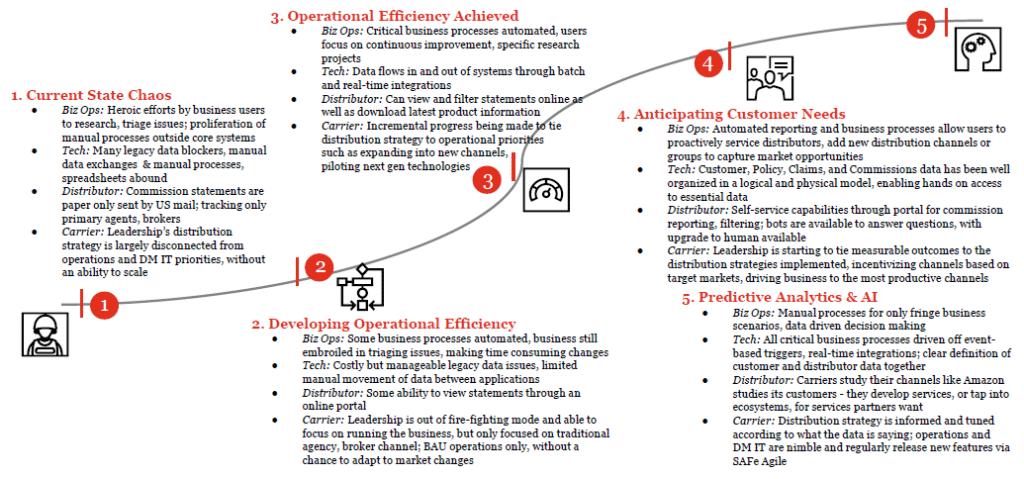 Step 1. Current chaos
Step 2: Development of operational efficiency 0 [196S9:Driftseffektivitet3] Efficiency achieved
Step 4: Predicting Customer Needs
Step 5: Predictive Analysis and AI
One Day in the Life – Challenges, Obstacles and Efficiency
For each of the steps below, it's like living every day from the insurer's and distributor's perspective. Is the technology in a state where it harms or helps? What obstacles need to be addressed before moving on to the next step? As you read the list below, think about where your organization can be placed along the curve and then continue reading for a glimpse of the possibilities and efficiencies you can have in the next step.
Current State Chaos

The earliest stage of the maturity curve is characterized of a huge amount of manual effort just to be one step behind. When it comes to business operations, basic tasks such as researching or triaging problems are extensive and time consuming for business users.

On the technology side, users need to be very aware of where different data is in a variety of offline documents or tables. due to the abundance of siled spreadsheets. As a result, carriers see the centralization of knowledge in a few very experienced resources. They experience long replacement cycles, inconsistent service quality and data management challenges. There is an inherent risk that this tacit knowledge is held by a small group of employees, many of whom can approach retirement age quickly. What happens when they go and take this knowledge with them? All of this means that the organization must focus on survival rather than prosperity.

From a distributor perspective, "ease of doing business" is non-existent. Changes are time consuming. The volume of the call is skyrocketing due to a lack of transparency and access to information. A lot of time is spent troubleshooting or investigating what happened, when and why. Problems cannot be fixed quickly and result in many incorrect transactions. Growth, let alone retaining top distributors, is a challenge at best. It is difficult to reap the benefits of technical investment without integrations with other core systems or access to digital information. which breaks up the monotony of manual heroism. Although this is a relatively improved stage, there will still be a high degree of manual effort.

Many carriers reach this stage and are discouraged by the results. Historically, this is a difficult period that should be seen as an "exercise phase" based on early results, rather than the end point of a transformation for the organization. Triaging problems are still a complicated and time consuming process for business users.

On the technical side, problems with older data are common, and although they remain costly, the majority of data begins to be transferred from application to application via automated jobs. There will still be some lingering instances of older operational data living offline only for accepted, marginal business cases.

Operational efficiency is still created at this stage, but one day in the user's life begins and ends with operational inefficiency. Business users will still spend a lot of time investigating problems, a process that requires navigating multiple applications to find the most useful information. Distributors may be able to see selected statements through a basic online portal at this stage, but little else is available online and they often still deal with the inefficiency of paper mail. To go from the first to the second step, it is important that carriers start optimizing different processes via automation, as well as implementing a basic portal with at least basic capacity. Conveyors will still need to add automations to adapt in real time.

Operational Efficiency Achieved

Once a transporter reaches the third stage of the maturity curve, sufficient automation has been implemented for the transporter to notice the operational efficiency that has been achieved. At this stage, critical business processes are automated, freeing up bandwidth for business users. Without having to invest so much time and energy in firefighting, users can prioritize research that drives continuous improvement. Technology efficiency is driven by batch and real-time integrations, allowing data to flow across applications without manual manipulation. ahead. Many DM core platforms have made investments to enable easier distribution of digital experiences. Producer portals allow distributors to view and filter all statements online and download the latest available product information.

A holistic advantage of achieving these operational efficiencies is that carriers will increasingly be able to link their distribution strategy to operational priorities. Newfound capabilities such as expansion into new channels or piloting the next generation of technology will provide concrete evidence that progress is being made towards a real distribution management transformation.

Predict customer needs

a transport company can increasingly choose how and where they want to make improvements to the business. Here, automated reporting and business processes allow users to proactively serve distributors; all core business requires very little effort from the users. Business users can more easily identify new distribution channels or groups, and they can take advantage of when new market opportunities arise. Users get further help from the fact that customer, policy, claim and commission data have been well organized in a logical and physical model; it is both efficient and intuitive to access important information.

The producer portal goes beyond filtered transactions to a holistic experience from introduction, to service, commission extraction, generating potential customers and more, and redefines "the ease of doing business." [19659019] Business users invest little or no effort to access the information they need, and the portal features are completely self-service with human interaction almost like a luxury upgrade. Leadership at the company level will be able to begin to link measurable results to the distribution strategies that were implemented during the transformation. At the channel level, incentives will be based on target markets, and operations will be driven to the channels that are most productive.

Predictive Analytics & AI

Very few operators, if any, have taken steps 5. However, it is the right vision to aim for, as it encapsulates what is currently possible.

When operators reach this stage, data-driven predictive alerts for business users will improve the timing, speed and quality of decisions related to managing their distribution channels. Core processes will be implemented through automated data-driven decision-making, rather than very manual intervention by business users. The technology will inform these automations given the presence of event-based triggers and real-time integrations.

Manual effort is limited to exceptions. Distribution capacity should be mature enough for carriers to have a comprehensive understanding of their customers. They will only develop services or strategies that exploit ecosystems when it clearly makes sense for what their partner wants. The distribution strategy will be fully informed and set on what their data says. Carrier technologies will be fast enough to consistently and efficiently meet customer needs.
You can get there from here!
Carriers and distributors can escape that tough feeling with incremental improvements and a vision of a changed experience for all . The vision is actually a good place to start. What will a successful transformation look like? What are key figures to track throughout the trip? Is this something we can do alone, or should we look for a partner?
Every organization is different, but all insurance companies should work within a growth strategy that includes the next generation of customer and distributor experiences. The opportunities needed will be in the next generation of distribution management technology.
For an expanded look at distribution management transformation, be sure to download the Majesco / PwC report, Distribution Management: A Path to Maturity. For a closer look at how to achieve the right mix of technology and flexibility in your business model, check out the latest Majesco / PwC podcast on Adapting and Growing.
Source link