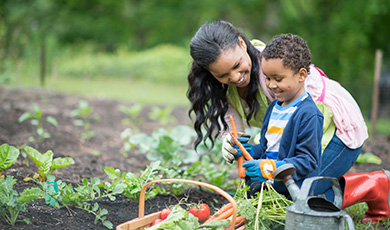 Spring is just around the corner and that means it's time to prepare for the gardening season. If you want to get more fresh, healthy vegetables and fruits into your diet—and get some exercise—gardening is the perfect way to accomplish both goals. Plus, the taste of fresh produce from your own garden is hard to beat!
Whether you're a seasoned green thumb or just starting out, these tips can help your harvest!
Once you've prepared your soil, it's time to decide what to plant and where to place it. When planning your planting space, consider the following factors:
Sun exposure (full sun, partial sun, partial shade, shade); with few exceptions, most vegetables need full sun
USDA Plant Hardiness Zone or Sunset Climate Zone and recommended planting date for your area
Companion planting, or plants that complement each other̵7;s growth
All these factors determine where you place your garden, which plants to choose, when to plant, how to organize plants in your garden and any soil supplements you may need. Harness the power of technology and take your garden planning online. Virtual garden planning software makes the planning process easy, from creating a layout to building a calendar.
Choosing plants
Now comes the fun part: which plants to choose? For most gardeners, space limitations have the greatest influence. The key lies in discovering what works in your particular microclimate; you might want to talk to neighbors who have gardening experience and ask them what has worked and what hasn't.
As a starting point for a 16-by-10-foot garden, the Old Farmer's Almanac recommends planting:
Five tomatoes
Four zucchini squash
Six peppers
Up to 11 rows of cabbage, lettuce, beetroot, carrots, bush beans, Swiss chard and radishes
Marigolds to ward off rabbits and other pests
These basic plants can feed a family of four for one summer. However, you can choose other favorite vegetables and fruits to match your taste; Think about the products you buy every time you visit the grocery store and focus on these plants. Regardless of the plants you choose, you may want to use a planting calendar to determine the right time of the month to start seeds, transplant seedlings, or purchase starts.
Companion planting
Using the principles of companion planting, or placing plants in complementary positions in the garden, can also help increase your harvest. This method has been used for generations to improve plant health and production. Some rules are quite simple, such as placing plants that thrive in a little shade under taller plants that will provide that shade. Some plants repel pests; for example, tomatoes repel larvae of the diamondback moth, a pest attracted to cabbage. Planting tomatoes and cabbage together can help keep the caterpillars away.
Other plants, known as nitrogen fixers, actually add beneficial nutrients to the soil. Legumes like beans and peas are prolific nitrogen fixers that help nourish plants around them. Use a complementary plant chart to determine which plants can lend each other a helping hand in your garden.
Try regional varieties
While there is nothing wrong with buying seeds or starting at a big box store, most of the varieties sold are likely to be somewhat "generic" because they are not necessarily tailored for success given your specific region's weather patterns and soil types . Consider trying regionally specific varieties that have proven successful in your region. A national survey that looked at the most successful varieties in the US can provide insight into what to try in your hometown.
Gardening can be an incredibly rewarding activity that promotes environmental sustainability, gives you some exercise and provides delicious food for your family too
This article is provided by Encompass, a Bolder Insurance partner.
The general information in The Encompass Blog is provided as a courtesy and is for informational and entertainment purposes only. The content of this website is subject to change from time to time without prior notice. The information on the Encompass blog is not intended to replace official sources. Although attempts will be made to ensure that the information is accurate and current, the information is presented "as is" and without warranty. The information on the Encompass blog should not be confused with professional advice. The information contained herein should not be considered error-free and should not be used as the exclusive basis for decision-making. Use of website information is strictly voluntary and at the user's own risk. We encourage you to obtain personal advice from qualified experts when making decisions regarding your specific situation.
Other resources linked from these pages are maintained by independent providers. Encompass Blog does not monitor all linked resources and cannot guarantee their accuracy. Statements, opinions and views contained in an independent vendor's material are strictly those of the author(s). These views may not necessarily represent the views or policies of Encompass Blog, the Encompass family of companies or its agents, officers or employees.
Source link