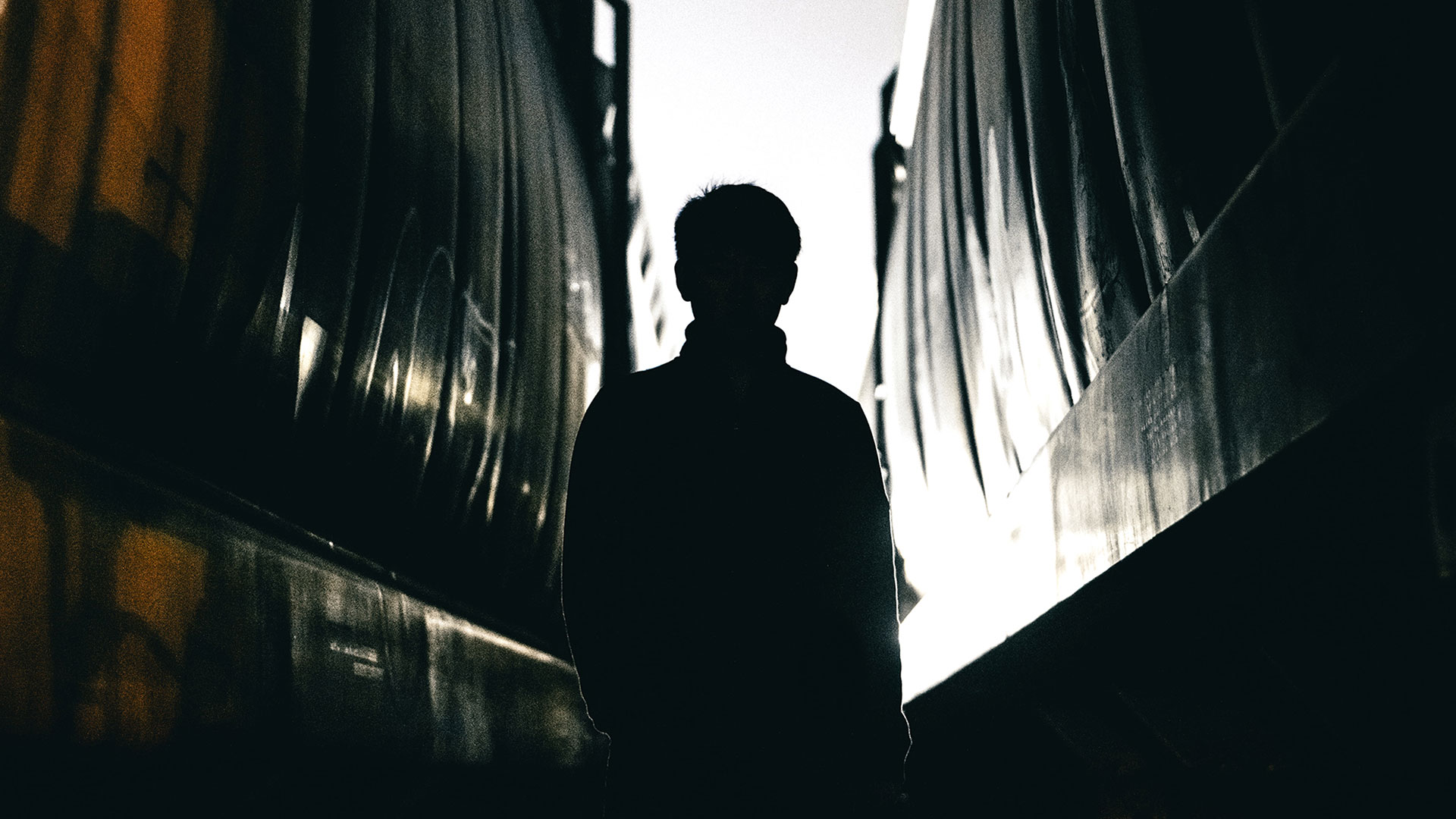 Let's start with a warm-up exercise. Here are phrases you can find in any project meeting. Insert the missing words.
"The easiest way to start this project is to pick [insert adjective] the fruit."
"That process is too complicated. The shortest distance between point A and point B is a [insert adjective][insert noun]."
"We have to modernize, but the measured values ​​do not support a complete platform change. We are sitting stuck between a [insert noun] and a [insert adjective][insert noun].
"Our competitors go digital and they use it for [insert anything here]. They just collaborated with [insert company] and now they earn [insert market] with their new [1

9659012]. "
It may be an oversimplification, but the recent growth of insurance companies is more about filling in gaps and gaps – capturing new or open opportunities with new products, partners and channels. Since risk management is the core of insurance, Most insurers are very skilled at managing risks to ensure guaranteed profitability and customer satisfaction.Digital technology and increased real-time access to data steadily increase risk management expertise while helping customers reduce or mitigate nska risk.
It is what is missing in the technology / market mix that counts. Some organizations need to expand their expertise in filling gaps in the market and using new technologies and partnerships to leap forward in new, open opportunities.
Majesco's research revealed this insightful detail: When insurance managers realize that they are missing a key part of their strategy, the form is quickly filled out. They seamlessly switch from knowing and planning to doing. They actively fill in competition gaps and when opportunities create an opening, they jump into it. This ability to jump into it, defines the difference between leaders, followers and laggards in this report, strategic priorities 2021: despite challenges, leaders widen the gap. We will look at some of these insights today.
Gaps Monitoring Highlights Competitive Deviations
Insurers' competitive position was previously a brand and distribution focus. Now the distribution and business are looking for technology, platforms and partnerships to give them a competitive edge. That edge is changing, however. Leaders are widening the gap with Followers and Laggards in several important areas.
When it comes to integrating specific trends, technologies or features of the market into its business models or offerings, Laggards continues to lag further behind both Leaders and Followers. Their focus is on a very limited set of opportunities that do not even keep pace with the rest of the industry.
The Majesco survey asked companies to indicate their level of response, from "No focus on this" to "Already implemented", for specific articles in these categories:
ecosystems
Regulatory development
Although companies can not Acting on all these issues at once, the inability to move from understanding to planning and implementing is a growing concern given the pace of change in the market. Companies that fail to integrate these categories into their plans and execute them intensify their operational and business risk.
In response to new market opportunities
Continuous changes in technology-driven capacity, customer behavior and expectations and blurred market boundaries have created many opportunities for insurance companies to grow by creating new products and services and reaching new markets. Followers and leaders are quite well adapted to their cumulative responses to the market opportunities that these trends create.
However, there is a significant overall gap (35%) between leaders and laggards, led by huge gaps when it comes to acting on Microinsurance (92%) and Sharing / Gig Economy (86%), and develop New insurance models (59%). These topics were not addressed in the 2018-19 survey, but in the 2019-20 survey, the gap between leaders and laggards was 22% and 7% for leaders versus followers – which reflects a large increase in the gap between leaders and laggards. Again, this supports the observation that Followers do their best to stay close to Leaders, but Laggards ends up further behind.
Figure 1: Gap between Leaders, Followers and Laggards in response to market trends

Leveraging Platform Technologies [19659017] The most unexpected finding in this year's survey was that Followers beat leaders in their cumulative levels of integrating 16 different technologies into their offers or capacity. Although it is a small gap, only 5%, it represents a 17-point swing from last year, when Leaders had a 12% advantage. We hope this continues into next year, making Followers in a much better position to compete!
The gap between leaders and laggards remained relatively the same, 15% last year and 17% this year.
figure 2: gaps between leaders, successors and laggards in response to technical trends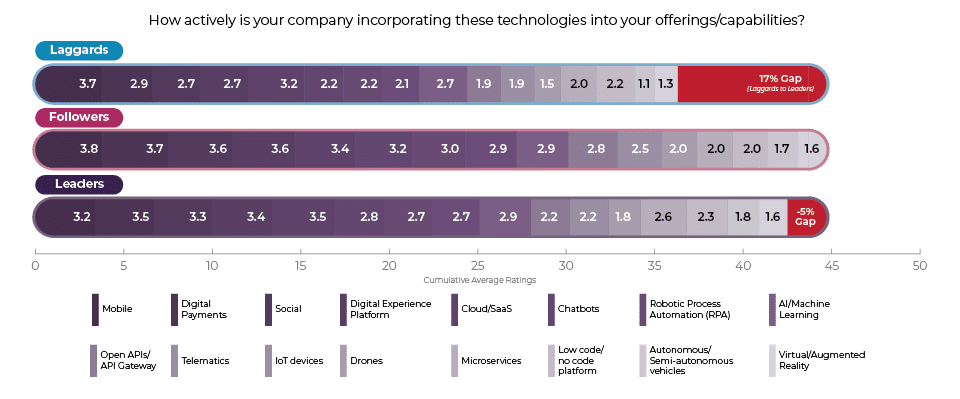 when we divided these 16 technologies into three coherent groups and compared the total averages you see that the Leader-Follower gap is driven by Technologies for Products and Services (11%) and Customer Experience Technologies (9%). Although not huge, these topics are highly regarded by leading, innovative insurance companies that focus on the next generation of customers who demand different products and experiences.
Leaders and followers are dead even in their overall activity level and responses to Platform Technologies, improved from a 15% gap in favor of leaders last year. Even more encouraging, Laggards almost halved the gap with leaders, from 22% last year to 12% this year. Leaders and followers differ from Laggards in two of the technologies: Digital Experience Platform (26%, 33%) and AI / Machine Learning (29%, 38%) while Leaders endure from both on Microservices (30%).
Tightening the gaps between all three is overall encouraging, especially for Followers and Laggards, giving a ray of hope. Reality seems to be sinking as we enter a new era of platform technology.
Figure 3: Distance between leaders, successors and laggards in response to platform technology trends

Implementation of digital capabilities
This year's specific focus area was around digital functions and the results definitely show that this is the era and year of digital! All three segments implement digital self-service options such as chat and digital payments. While these tools have been around for a while, COVID made them table bets.
These tools – although useful and used by many "out of the box" portals as functional apps, such as a claims app, do not in themselves meet the shift and customers' expectations of personal, holistic experiences. This is where digital insurance platforms, a combination of digital experience and low code / no code platforms, transform these older approaches from closed, separate transactions to the next generation of satisfying overall experiences for customers, channel partners and employees, as we noted in our life and automotive customer research.
It is also not enough to simply add common, different digital functions such as portals and think that you can "tick the digital box." Becoming a digital insurance company requires a cultural change and mindset to a new way of thinking, planning and doing. Leaders know this. They use digital everywhere it counts.
Digital Leaders Use Digital Technology to Improve Customer and Employee Experiences and to Improve Their Strategic and Operational Capacity, as shown in Figure 4, with leads across the teams in Digital Employee Benefits on Board and commitment (28%), Intelligent digital damage (22%) Innovative, personal products (43%), Intelligent digital marketing (48%) and segmentation (61%) and Digital assets for reporting, modeling or compliance (35%).
Today's customers are becoming increasingly digitally skilled, with higher expectations, different needs and a demand for better experiences that are not met with the "traditional" insurance strategy, which creates a fault line between customers' expectations and the ability to insure. These digital gaps will be the new competitive differentiators.
Figure 4: Leaders, followers and laggards' response to the development / implementation of digital functions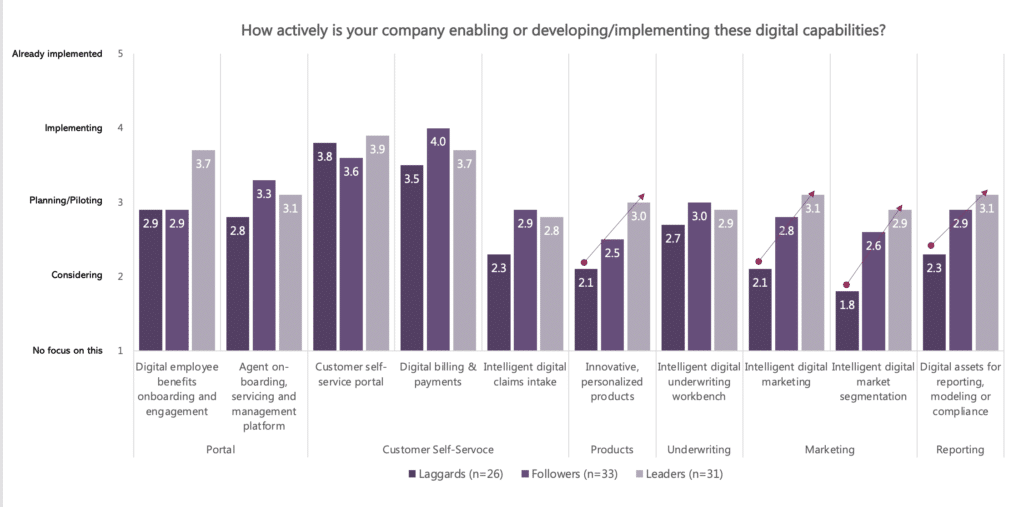 Partnerships and ecosystems
The gap between leaders and laggards was the largest for Partnerships and ecosystems, 71%. The main drivers of this disappointing and worrying gap are Setting up product (s) on a partner platform with revenue sharing (129%), White marking products sold by another company (86%) and Establishment of an ecosystem of partners using APIs (81%). Insurers must increase their "doing" in this area in order to avoid losing opportunities to reach new or delayed markets and to be at the forefront of establishing partnerships over others. We highlighted this possibility in our joint research with PIMA last year. Laggard's failure to acknowledge the critique of partnerships and ecosystems is a major blind spot .
Our research, like many other studies, has shown strong customer interest in purchasing insurance through other partnerships and channels. In addition, the development and availability of APIs to connect to new partnerships and ecosystems is increasingly important to consider.
In this new era of insurance, almost all insurance processes quickly become frictionless, including purchases. If distribution channels are easy to use with products that are easy to understand, insurance has the opportunity to grow through a friction-free multi-channel distribution system. The advantage of adapting to these channel dynamics is that we go from having to "sell" people who buy insurance, to introducing an insurance that is ready to be "bought" seamlessly when needed, which creates a scalable, sustainable business model
Figure 1: Gap between leaders, successors and laggards in response to partnerships and ecosystems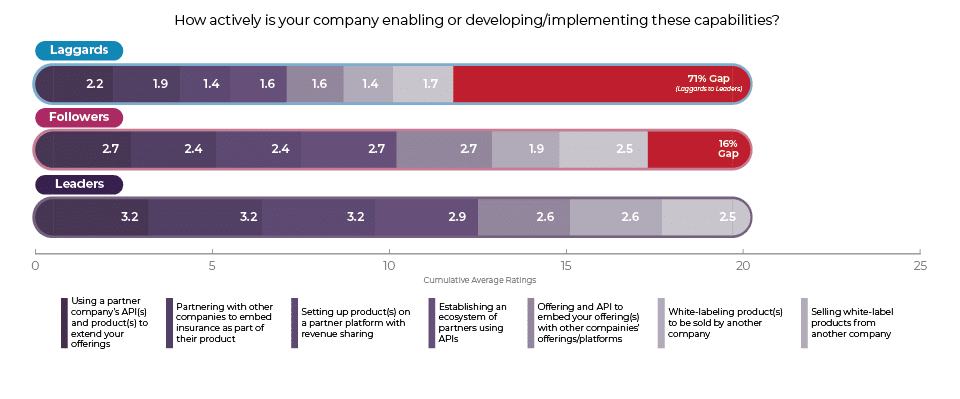 While both laggards and companions closed the gap with the leaders last year, everyone saw that these benefits disappeared this year. The Leader-Laggard gap was a staggering 4x increase compared to last year's gap of 18% and the Leader-Follower gap increased 3x . This does not bode well for both Followers and Laggards – which limits their market reach and growth.
Market boundaries are no longer clear. They shift and in some cases they evaporate. The combination of technology and customer expectations directly affects insurance by changing the traditional ecosystem of agents and brokers – which, yes, are still relevant – to have insurance embedded or sold differently across a broader ecosystem including car, transport companies, big tech and more.
By doing so, these partners break down business and market boundaries to make ecosystems work smoothly, based on the customer's needs and expectations for both the risk product and other value-added services. This in turn creates greater value for these insurance companies due to new revenue streams and access to a broader market through the multiplier effect.
Given the rapid development of ecosystems, the transition to a platform economy and an increased focus on a broader customer experience dependent on partnerships, these gaps give leaders, who are actively working with ecosystems and partnerships, the opportunity to accelerate and link relationships while Laggards and Followers remain.
Use regular points to drive transformation agendas
Within each insurer, there are those who want to go faster than the company traditionally moves. It's a frustrating position to be in. For transformation-minded executives who fall into the category of Followers or Laggard, it can be helpful to document all the potential value and incentives that your organization stands to gain. One of the incentives on the list must be to improve their ratings relative to AM Best.
Compared to the other Doing categories, meeting the AM Best criteria for innovation and participating in a state-sponsored innovation sandbox have among the lowest levels of all three segments. The gap between Leader and Laggard of 24% increased slightly from the previous year's 17% gap, while the Leader-Follower gap remained low compared to last year's 7% gap. rapidly changing marketplace and adoption of digital technology. As a result, innovation has gone from an operational to a strategic requirement to strengthen market leadership by outperforming competitors and by challenging larger ones to ensure long-term survival and success. From this point of view, it is surprising that insurers are no longer actively planning or implementing strategies that take advantage of these regulatory changes to accelerate their innovation initiatives.
We believe that the "know-doing" gap and the paths that an insurer takes for the future, including exploiting the possibilities of the sandbox, will be directly related to their ability to innovate and capacity, two important elements of the new AM Best- innovation points. Forward-looking insurance companies should use this pressure to their advantage.
Figure 6: Gap between leaders, followers and laggards in response to the development of regulatory innovation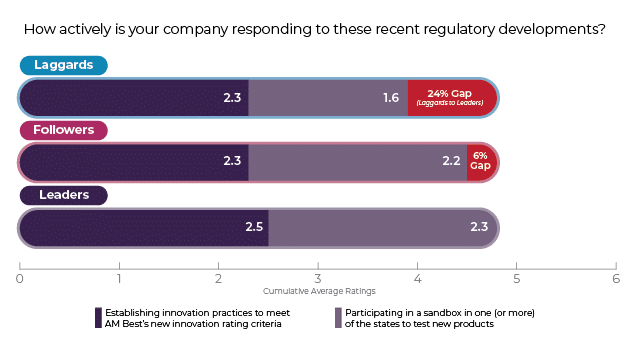 In terms of opportunities, insurers, including laggards, should remain optimistic. It is not too late to take advantage of technologies, platforms, partnerships and regulatory incentives that can move your organization into the future.
COVID-19 has been a global crisis, but it has also provided insurers with new opportunities for the post-pandemic market. Does your organization use this time of crisis as an alarm clock to position your company for the future? How would you fill in the gap and space?
In our next blog, we look at the role of optimism in a strategy for growth. What are companies like yours considering over the next three years? Can it help to look at the whole industry with different eyes? Be sure to get the full picture by reading, Strategic Priorities 2021: Despite Challenges, Leaders Widen the Gap.
Source link