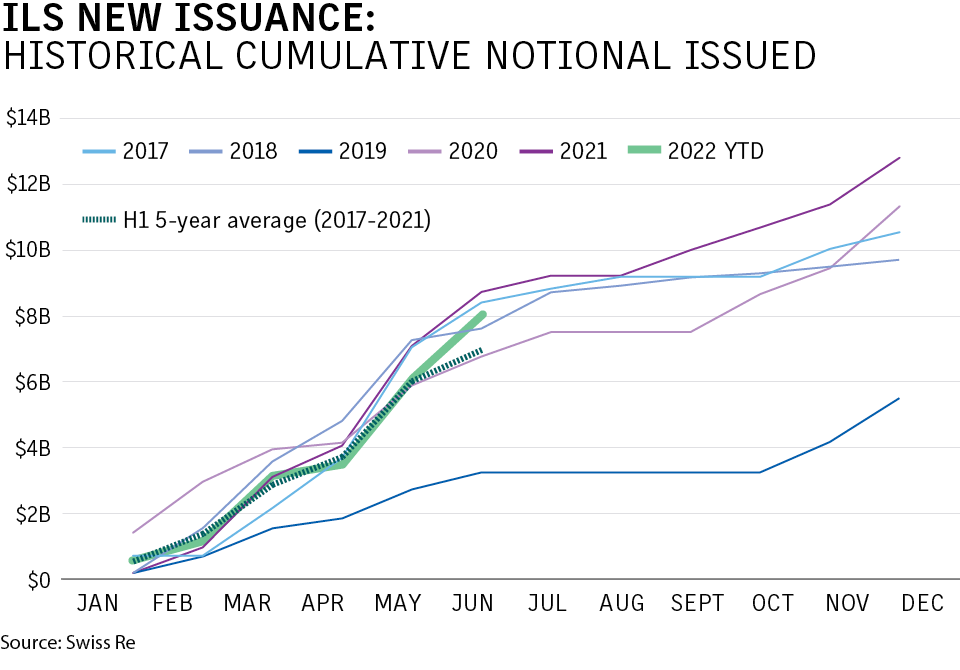 New issuance of property/casualty bonds totaled $8 billion in the first half of 2022, down 8.9% from the same period last year, according to a report Wednesday from Swiss Re Ltd.
The report said 2022 issuance was still the third-highest total recorded for new issues in the first half of the year, and a withdrawal of traditional reinsurance capacity could provide further opportunities for the sector.
New issuance in the second quarter also included $805 million in cat bonds from new sponsors, including Peak Reinsurance Co.'s Black Kite Re 2022-1 with $150 million coverage for Japan Typhoon.
The hardening traditional reinsurance market may provide opportunities for the cat bond sector.
"Some reinsurers have reduced capacity in peak zones or completely closed their natural catastrophe portfolios, which has led to increased opportunities in the ILS market,"
; the report said.
These opportunities should continue, the report said.
Like the traditional reinsurance market, inflation has hit the ILS market with increased costs for repair and rebuilding after losses. Because models may not fully reflect the effects of inflation on expected losses, "some issuing sponsors have chosen to provide investors with projected insured value data based on an upward inflation trajectory," the report said.
Source link