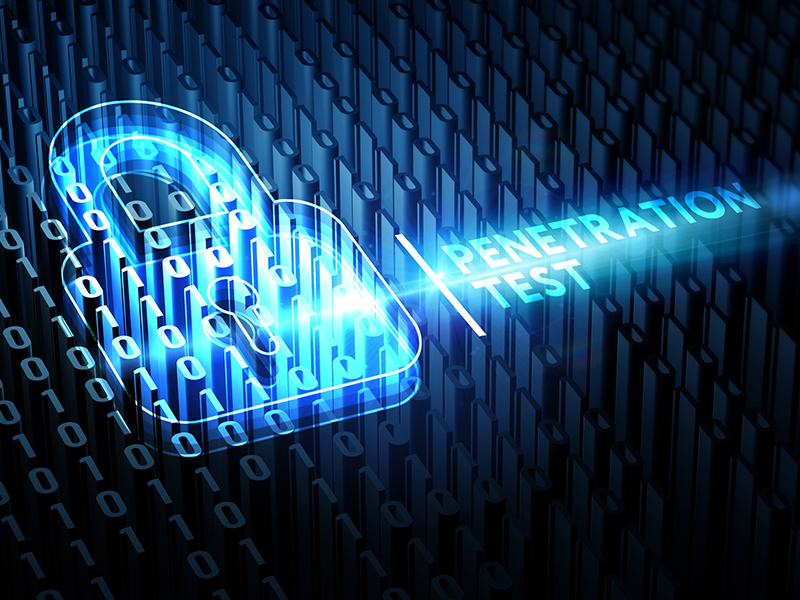 Keeping technology up and running in the workplace is critical to the success of any organization. Although this task seems feasible, it is growing harder and harder with each passing year as cybercriminals expand their reach. It is not enough to just protect workplace technology with software and safety protocols. It is also important for your organization to regularly test the overall effectiveness of these protocols. This is where penetration testing can help.
Basically, a penetration test consists of an IT professional who mimics the actions of a malicious cybercriminal to determine if an organization's workplace technology has any vulnerabilities and can withstand their attacks. Conducting a penetration test can help your organization examine the effectiveness of cyber security measures in the workplace, identify the most likely avenues for a cyber attack, and better understand potential vulnerabilities.
Read this guide to learn more about penetration testing, the benefits of such testing, and best practices for conducting a successful test within your organization.
What is Cybersecurity Penetration Testing?
Simply put, penetration testing refers to the simulation of a real cyberattack to analyze an organization's cyber security strengths and weaknesses. This test is usually aimed at a specific type of workplace technology, such as the organization's network, websites, applications, software, security systems, or physical assets (such as computers and smart devices). Penetration testing can take advantage of various attack methods, including malware, social engineering, password cracking, and network hacking.
In general, penetration testing is often performed by a professional from a contracted IT company who is not associated with the organization being assessed in any way. This helps the cyberattack simulation to seem as authentic as possible. Penetration testing is usually either external or internal. The primary differences between these test forms are as follows:
External penetration testing requires the IT expert to attack an organization's external workplace technology from an external perspective. In most cases, IT professionals are not even allowed to enter the organization's physical establishment during external penetration testing. Rather, they have to carry out the cyberattack at a distance — often from a vehicle or building nearby — to imitate the methods of a real cybercriminal.
Internal penetration testing enables the IT expert to attack an organization's internally inverted workplace technology from an inside perspective. This form of testing can help the organization understand the amount of harm that an insulted employee could potentially inflict through a cyberattack.
In addition to these test formats, there are also two different types of penetration tests. How much information an organization provides to IT professionals before the cyberattack simulation determines the type of penetration test. Specifically:
An open test occurs when the IT expert receives some details about the organization's technology in the workplace or cyber security protocols before launching the attack.
A closed test takes place when the IT expert receives no information other than the name of the organization before the attack is carried out.
Ultimately, the format and type of penetration testing should be chosen based on the specific workplace technology elements or cybersecurity measures that an organization wants to evaluate. [1
9659004] Benefits of Cybersecurity Penetration Testing
Penetration testing can offer many benefits to your organization, including:
Improved cyber security evaluations – By simulating realistic cyberattack situations, penetration testing can help your organization more accurately evaluate its security and vulnerabilities – as well as reveal the real costs and all security issues. [19659008] Greater detection of potential vulnerabilities – If any of your workplace technology or other cybersecurity protocols fail during a penetration test, you will get a clearer picture of where your organization is most vulnerable. You can then use this information to correct any security vulnerabilities or further invest in certain cyber initiatives.
Increased compliance capacity – In some sectors, organizations are legally required to participate in penetration testing. For example, Payment Card Industry Data Security Standard encourages organizations that accept or process payment transactions to perform routine penetration tests. As such, conducting these tests can help your organization stay compliant and maintain sector-specific expectations.
Strengthened awareness of cybersecurity -Eimating real cyberattack conditions will highlight the value of having effective preventive measures in place for your employees, thus encouraging them to prioritize cybersecurity protocols in the workplace.
Cybersecurity Penetration Testing Best Practices
Consider these best tips for conducting a successful penetration test within your organization:
Establishing Goals. It is crucial for you to determine what your organization's goals are with respect to the penetration test. Be especially sure to ask:

What does my organization want to get or better understand from penetration tests?
What cyber security threats and trends are currently most prevalent in my organization or industry? How can these threats and trends be applied to the penetration test?
What specific workplace technology elements or cybersecurity protocols will the penetration test target?

Choose a trusted IT professional. Consult an experienced IT expert to assist your organization with the penetration test. Be sure to share your organization's goals with IT professionals to help them understand how best to conduct the test.
Have a plan. Before starting the penetration test, work with the IT expert to create a suitable plan. This plan should describe:

The general test period
Who will be aware of the test
Test type and format
What statutory requirements (if any) must be met through the test
Test limits (eg which cyberattacks simulations that can be used and what technology in the workplace can be aimed at)

Document and review the results. Take detailed notes when the penetration test occurs and review the test results with the IT expert. Look closely at what cyber security tactics were successful during the attack simulation and what measures were short-lived, as well as the consequences of these shortcomings. Ask IT professionals for suggestions on how to fix security vulnerabilities properly.
Make changes as needed. Based on penetration test results, make necessary adjustments to workplace technology or cybersecurity protocols. This may involve updating security software or revising workplace policies.
Follow a schedule. Carry out penetration tests at least once a year, as well as after implementing new workplace technology.
We can help you recover from a cyberattack
Companies operate in an environment where it is not about [19659037] IF a cyberattack will occur, it's just a matter of when [19659037].
We must take reasonable steps to reduce the likelihood of an attack, but we must also be realistic and understand that inevitably we will all deal with a cyber attack at some point.
The two most important questions you need to answer as a business owner are:
Will I know how to react when a cyber attack occurs?
Will my company survive the devastating consequences of a cyberattack?
The planning you are making today, the strategic partnerships you are initiating and the suitability of your Cyber ​​and data intrusion insurance are all important components to surely answer the question of " my company will survive after a cyber attack "with a resounding" ABSOLUTE . "
We understand the negative effects a cyber attack can have on your organization, We have seen for ourselves how it affects customers. We also know which insurance companies offer the widest insurance coverage to help you recover from an attack.
But we do not stay there.
The best place to start is with your own internal operations, the security measures you have taken, the checks that have been carried out to prevent a data breach and the response plans if a breach occurs.
In addition to offering data breaches and data breaches, we can also provide you with several services to help you position your business for the best insurance premiums offered by the country's strongest insurance companies. Specifically, we can:
Provide you with data security resources designed to keep your data and network secure
Perform a cyber risk assessment of your business to identify vulnerabilities and offer solutions to reduce exposure
Help you develop and implement an incident management plan [19659009] To learn more about how we can help simply Request a suggestion we start right away.
Source link