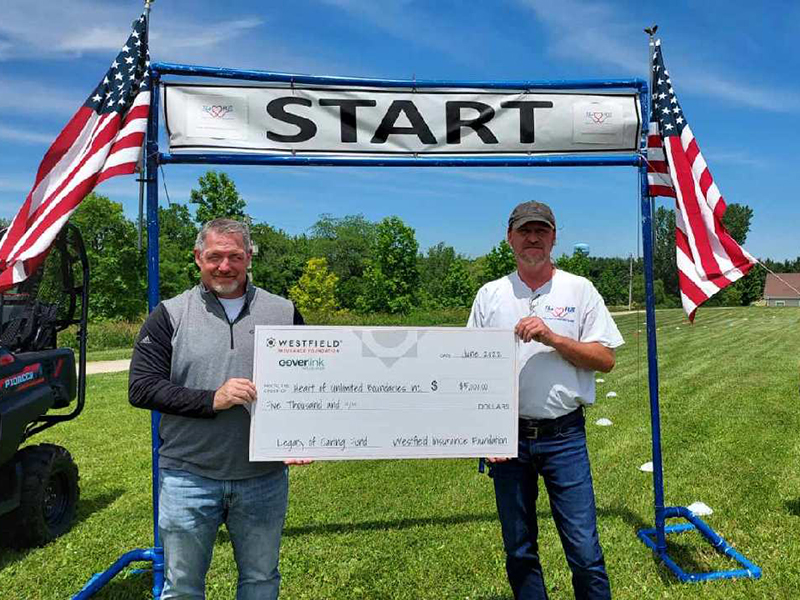 Pictured above: Larry Middaugh, Senior Insurance Advisor CoverLink Insurance and Rocky Grimes, founder of Heart of Unlimited Boundaries, Inc.
BELLEFONTAINE, OHIO, JUNE 2022, – The economic downturn from the events of the past two years continues to hit some sections of the population harder than others. It can take years to return to the stability and security that people and businesses, including non-profit organizations, enjoyed before a catastrophe occurred. This spring, the Westfield Insurance Foundation partnered with CoverLink Insurance to donate $ 5,000 to Heart of Unlimited Boundaries, Inc. to help families or businesses stabilize or recover from disasters as part of the Legacy of Caring program. Each year, Westfield̵
7;s independent insurance agents are invited to nominate a local non-profit organization in their community to receive a donation from the program. Grants were given to over 100 non-profit organizations in cities within Westfield's national footprint.
The Westfield Insurance Foundation, an independent private foundation provided by Westfield, distributes the donation as an extension of the basic role that insurance plays every day in stabilizing families, businesses and communities in times of uncertainty. This year, the Legacy of Caring program donated $ 625,000 to nonprofits across the country focused on helping underemployed families overcome barriers in education, finances, housing and jobs and recover from disasters.
"Our team at CoverLink Insurance is always looking for opportunities to volunteer and support our community," said Larry Middaugh, Senior Insurance Advisor. "We are proud and grateful for our partnership with Westfield, which helps our agency make a more powerful impact on the communities in which we live and work."
"We are so grateful for the generous support of Heart of Unlimited Boundaries, Inc.," said Rocky Grimes, founder. with developmental disabilities and critical illnesses, and helps families and businesses achieve short-term success with long-term results. "
At Westfield, it's about more than just writing insurance, it's about going beyond that to help people and families thrive and prosper. Providing support that reflects these values ​​is at the heart of the Westfield Insurance Foundation. Westfield is proud to work with its independent agents to distribute more than $ 3.5 million since 2015.
"Together with our agency partners, Westfield continues to build on the strong commitment to care that the founders of our company envisioned," said Ed Largent, Westfield President, CEO, Chairman and Westfield Insurance Foundation Chairman. "We believe in the power of community, and we are extremely proud of our ability to make meaningful contributions to better communities across the country. It's a great feeling to join forces with our agents and make an impact."
About Heart of Unlimited Boundaries, Inc.
Heart of Unlimited Boundaries, Inc. (HUB) is a 501 (c) 3 non-profit organization dedicated to providing individuals with special needs. HUB is nationally recognized for its inclusive and innovative programs.
HUB was founded in 2016 and provides therapeutic, recreational and employment programs for people with disabilities and critical illnesses. Their mission is to build meaningful relationships between individuals of all abilities and financial backgrounds in an effort to improve the quality of life for all.
Heart of Unlimited Boundaries, Inc. Contact:
Rocky Grimes
Founder
(614) 800-3310
info@unlimitedboundaries.org
About CoverLink Insurance
The guiding principle of CoverLink Insurance is to always put people before insurance … our employees care a lot about the customers we work with to protect on a daily basis. So when Westfield Insurance created its Legacy of Caring program, the mission fit seamlessly with the culture that has existed on CoverLink since 1920. We are honored when customers like Mark Muirhead say "they are the type of individuals you can trust and who honestly care about their customers from a business and personal point of view."It is this thoughtful approach that we feel is too often lacking in today's world, in all industries. And we are on a mission to change that, along with the help of like-minded organizations like Westfield Insurance.
CoverLink connector:
Kelli Young, MBA
Marketing Director
(937) 592-9076
kyoung@coverlink.com
About the Westfield Insurance Foundation
The Westfield Insurance Foundation was founded in 2005 as an independent private foundation with the support of Westfield Insurance. In line with Westfield Insurance's values, the Foundation exists as a dedicated community and industry partner; Concentrate resources on influencing safety, disaster recovery and family stability. The foundation donates over $ 3 million annually to a variety of charities.
About Westfield
Westfield was founded in 1848 by a small group of hard-working peasants who believed in the promise of the future and the power of the individual. Today, as one of the country's leading real estate and non-life insurance companies, we remain true to their vision and are dedicated to your protection and prosperity and to the progress of our society. Visit westfieldinsurance.com for more information.
Westfield contact:
Gretchen Long
Community investment leader
(330) 887-0484
gretchenlong@westfieldgrp.com
Source link