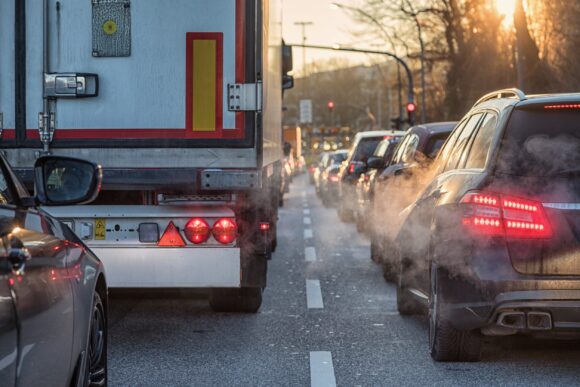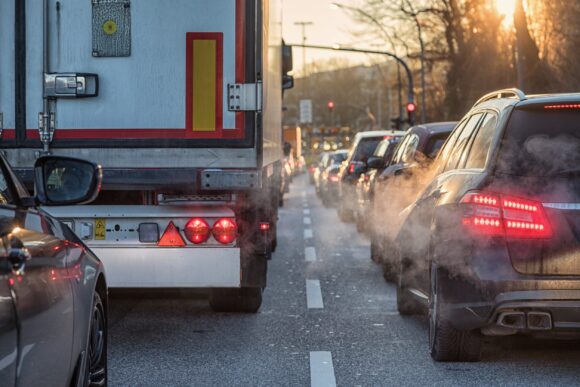 This post is part of a series sponsored by IAT Insurance Group.
The California Air Resources Board (CARB) is doing everything they can to reduce emissions.
From moving and storage vehicles to buses, freight trucks and even agricultural vehicles that previously did not have to comply, CARB regulations require heavy-duty engines to be upgraded or retrofitted. Regardless of where the vehicle is registered, all carriers transporting goods in California must comply.
Combine this with the repeal of Proposition 5,[1] that changed the definition of who is considered an independent contractor (IC), putting even more pressure on an already taxed industry in California.
What you need to know based on your vehicle size
Meeting these new mandates depends on your vehicle's engine model year (EMY) and truck's gross vehicle weight rating (GVWR). The chart below shows the deadlines for requirements to have a PM filter upgraded and installed based on a truck's weight and year. Note that all vehicles with 2010 EMY or newer are fully compatible.
EMY schedule for heavier vehicles (>26,000 lbs.)[2]
Vehicles with an engine model (EMY) from 2004 and earlier must have a particulate filter (PM) upgraded and installed by January 1, 2021.
| | | |
| --- | --- | --- |
| EMY | Level 3 PM filter | 2010 EMY of |
| 2005 or newer | January 1, 2014 | 1 January 2022 |
| 2007 – 2009 | If already equipped | 1 January 2023 |
Lighter vehicles (14,001 – 26,000 lbs.)[3]
Lighter vehicles do not require a Level 3 PM filter under the new rules. Vehicles with an EMY from 2003 and earlier were required to have a 2010 EMY by January 1, 2020.
| | |
| --- | --- |
| EMY | 2010 EMY of |
| 2004 – 2006 | 1 January 2021 |
| 2007 – 2009 | 1 January 2023 |
According to the new rules, refrigerated trailers and trucks may not have an engine older than seven years. By January 1, 2022, the cooled unit's engine could not be older than 2005. These are changed incrementally, starting on January 1 each year. So by 1 January 2023 at the latest, chiller engines cannot be older than 2006.[4]
How will the Department of Transportation (DOT) enforce this?
Since 2020, the California Department of Transportation, known as Caltrans, has been checking compliance with new vehicle registration regulations. Vehicles that are a 2010 model year or older must have a 2010 engine by January 1, 2023, or owners will not be allowed to register their vehicles.
But compliance has not been easy. Due to the current supply chain crisis, some car companies and independent contractors have been waiting more than a year for new trucks and upgraded engines. These supply chain issues are causing truckers to consider staying off the road—and not making a living—or driving illegally. Many owners may choose to operate fleets locally to avoid Caltrans road inspections and face consequences for non-compliance.
All carriers traveling to California should obtain CARB certification for their fleets. Carriers can obtain CARB certification and print driver certificates at www.arb.ca.gov only after fleets report accurate information and meet compliance standards.
For non-compliant trucks, CARB can issue Caltrans DOT blocks on vehicle registrations, forcing owners to remedy the blocks before their vehicles can be re-registered. For this reason, many car companies choose to transport goods through ports on the East Coast and send the goods by rail to their location on the West Coast instead.
What is the impact on independent contractors (ICs)?
All companies must upgrade or retrofit their vehicles to meet the requirements. But it's tough for IC, which may not have the money to meet California's new emissions mandate.
Car operators may want to consider employing their ICs to ensure drivers meet safety requirements and stay within compliance standards. While the combination of California emissions regulations and AB 5 raises questions, auto companies and ICs can rely on insurance brokers to find optimal solutions for coverage.
Contact IAT Insurance to learn more about how California's emissions regulations may affect commercial trucking coverage.
---
By Nancy Ross-Anderson, Loss Control Specialist
---
[1] Freight Waves "Lower Court Formally Lifts Injunction Against AB5 in California Trucking," 29 Aug. 2022.
[2] California Air Resources Board "A Guide to California's Clean Air Regulations for Heavy Duty Diesel Vehicles", February 2020.
[3] Ibid.
[4] Ibid.
Substances
California
The most important insurance news, in your inbox every working day.
Get the insurance industry's trusted newsletter
Source link