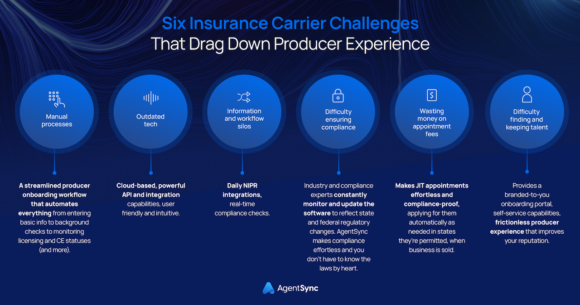 This post is part of a series sponsored by AgentSync.
For operators looking to own the future of their distribution channels, having a reputational advantage with downstream agencies and their producers is critical.: To help, AgentSync has sponsored a report with Aite-Novarica, called Modernizing the Producer Onboarding Experience.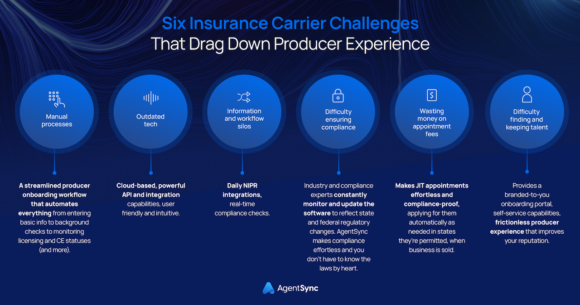 Read the report to learn how most carriers' existing processes involve debt, how mergers and acquisitions are likely to increase as agent churn increases, and how emerging tools like carrier management software will need to mitigate risk while enabling growth.
Or, if you're ready to transform your appointment management processes beyond onboarding to impress your producers and downstream insurance distribution partners, download Checklist: Turning Compliance into a Competitive Advantage for Carriers.
Carrier challenges for the producer experience
Many operators have rightly trended towards opening up direct selling tools to consumer audiences as they become more comfortable with tools that provide a robust digital experience and more autonomy for consumers. But with 75 percent or more of all insurance sales led by human agents, there's every reason to believe the personal element isn't going away anytime soon.
Including both data and contextual commentary from industry executives, Modernizing the Producer Onboarding Experience addresses questions such as:
As unprecedented retirement levels leave a younger cohort of producers in the workforce, how are their digital expectations changing?
What can carriers expect from producer relations in the future?
What factors influence manufacturers' preferences for individual operators in an increasingly diverse independent channel?
How do carriers successfully navigate the tension of producer reputation and growth with the risks and inconveniences associated with close compliance?
As mergers and acquisitions remain high or even increase in the insurance industry, operators looking to grow while maintaining reputations for being low-risk and easy to work with must lean into digital transformations that prevent growth and compliance from competing. Modernizing the Producer Onboarding Experience explains how: Download your copy of the report here.
Opportunities for carriers that establish solid producer relationships
Insurance distribution partners from agencies to MGAs to manufacturers often form their first (and possibly most lasting) impression of a carrier through the onboarding experience. A "process" that consists of a series of emails and phone calls, missed syncs, and messages that start with "I'm sorry, but we haven't yet received…" can start you off on the wrong foot. But modern insurance agent onboarding software can move your partners through the process quickly, efficiently, and with as little back and forth as possible.
Carriers that can position their compliance obligations as a growth prospect by using producer onboarding software will have the benefits of both reducing risk and effectively leveraging underwriting technology to build relationships. Speed ​​and trust together create a frictionless experience – perfect for the emerging market for insurance producers.
In addition, onboarding management software can help carriers keep money in their pockets by not only reducing churn and making it easier to recruit and retain talented finance staff, but also by using Just-In-Time (JIT) meeting processes that save money on unnecessary producer meetings.
To learn how forward-thinking carriers across the industry are building a producer-friendly onboarding reputation, download your copy of Modernizing the Producer Onboarding Experience. To manage your own producer compliance protocols from induction to termination, download the checklist: Turning Compliance into a Competitive Advantage for Carriers.
Substances
Carrier
Interested in Carrier?
Get automatic alerts for this topic.
Source link