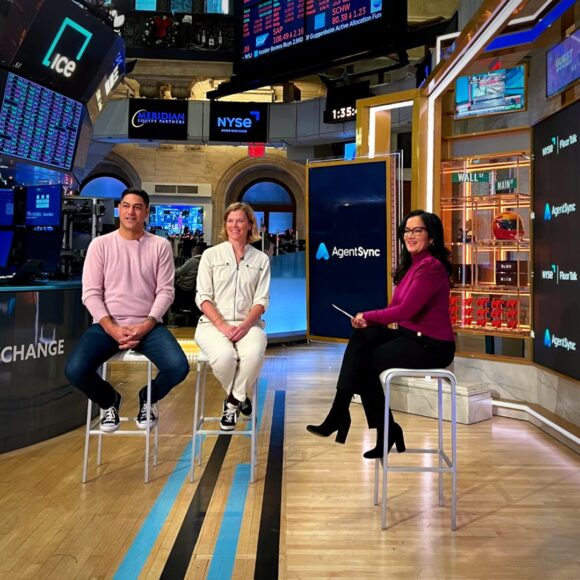 This post is part of a series sponsored by AgentSync.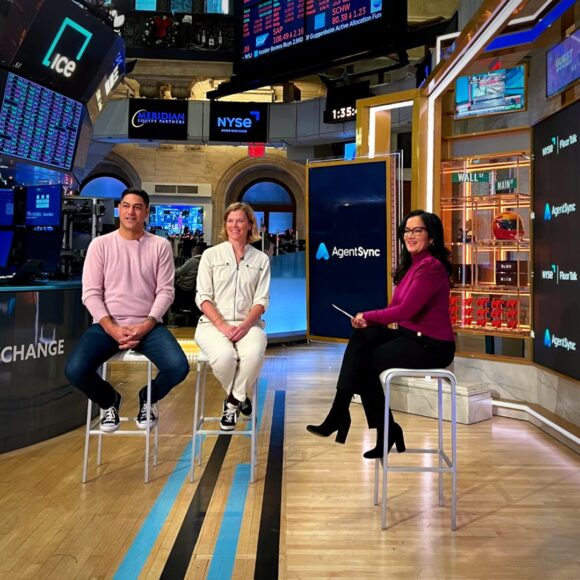 Recently, AgentSync co-founders Jenn Knight and Niji Sabharwal sat down with Judy Shaw, host of the New York Stock Exchange (NYSE) video series Floor Talk, to discuss the future of the insurance industry and the problem AgentSync solves for its clients.
The NYSE Floor Talk video series highlights interesting companies – both public and private – and gives leaders the opportunity to tell their stories. We are excited to share AgentSync's story before this prestigious audience.
You can see the full interview here. But for a recap of the conversation, read on!
Where does AgentSync fit in the insurance space and what problem does the solution solve?
The insurance space can be a bit confusing. Between carriers, agencies, distributors and the many other players in the insurance distribution channel, it can be difficult to keep things straight. At the beginning of the interview, Knight reflected on her early days building AgentSync and remembered that she needed to take some time on her own to learn more about the industry. Naturally, she now has a deep understanding of the insurance space and was quick to define AgentSync's role in the industry and the main problem our solution is solving for our clients.
Knight and Sabharwal recognized the pain points associated with producer management, whether for large-scale insurers, independent agencies selling insurance, or newer distribution models such as MGA/MGU. Our technology-enabled solution streamlines the onboarding process for producers so agents can better serve their customers and sell faster.
And because insurers, agencies and MGAs/MGUs all have a responsibility to ensure agents are properly licensed and appointed, AgentSync builds compliance into every step. These are just some of the key ways in which the company supports the insurance distribution channel.
Consumers may think that insurance agents are a thing of the past. How do you support this role as it evolves?
For years now, the industry has been plagued by the idea that agents are becoming a thing of the past, but as Sabharwal reminded the audience, that's actually not the case. In fact, the so-called death of the insurance agent has been greatly exaggerated.
While many customers are adopting some digital solutions for their insurance needs, agents continue to play a necessary role in the purchase decision. Consumers still see agents as experts, and as such they still want and need their advice on the right types of insurance for their home, their business and their health.
Knight and Sabharwal also took time to address the talent shortage facing the insurance industry today and how the AgentSync solution can help address it. Nobody wants to work for a company whose workflows predate the dinosaurs. Ok, that might be a slight exaggeration, but seriously – to attract new people to the industry, we need to modernize it.
Technology like AgentSync helps automate tasks that agents were previously stuck doing by hand. In this way, today's producers can spend more time doing what they do best: advising and selling. Companies that enable their employees to do more meaningful work and less busy work will have better luck attracting new talent to the industry.
Why has the insurance industry been slow to adopt technology?
The insurance industry is often cited as being slow to change. As Knight points out, that's a bit of a misconception. The truth is that insurance companies have always handled large amounts of data. Harnessing this data and turning it into actionable insights is a challenge that has only recently become easier with modern technology. As the technology matures, so does our understanding of how we can use it to make the industry more efficient.
Complying with state, federal, and local licensing requirements and regulations can be a real administrative nightmare, especially for businesses that still perform these tasks manually. And while others have taken steps to modernize their operations by building their own solutions, the truth is that the road can be just as frustrating and time-consuming.
AgentSync is a cloud-based solution, which means it's easy to implement and can be updated in real-time—capabilities that weren't available even just a few years ago but are now critical to addressing costly inefficiencies. The benefits of these modern solutions are invaluable and we see that reflected in the high demand for them. AgentSync's success comes from the fact that our product solves real problems for our customers.
The economy is slowing and we've obviously seen the latest layoffs in the tech sector. How do you approach the slowdown?
When the conversation turned to the recent economic downturn, Knight and Sabharwal discussed AgentSync's response. At AgentSync, we recognize that our people are the key to our success. Our outstanding team of engineers, customer success managers and account managers are dedicated to helping the insurance industry save money and address inefficiencies.
That said, Sabharwal emphasized how the company has been thoughtful about our strategy for growth and is taking steps to avoid over-leveraging. As the economy continues its downward trend, AgentSync will continue to be cautious about hiring and growth.
For our customers, the value AgentSync's solution provides is even more critical during an economic downturn because it allows organizations to do more with less. The efficiencies and automations our technology provides means producers can spend less time and money on repetitive tasks like manual data entry and more time on strategic tasks and building stronger customer relationships.
We were honored to feature AgentSync in the NYSE Floor Talk video series. If you are interested in learning more about our solution, schedule a demo today.
Substances
Trend agencies
Interested in Agencies?
Get automatic alerts for this topic.
Source link