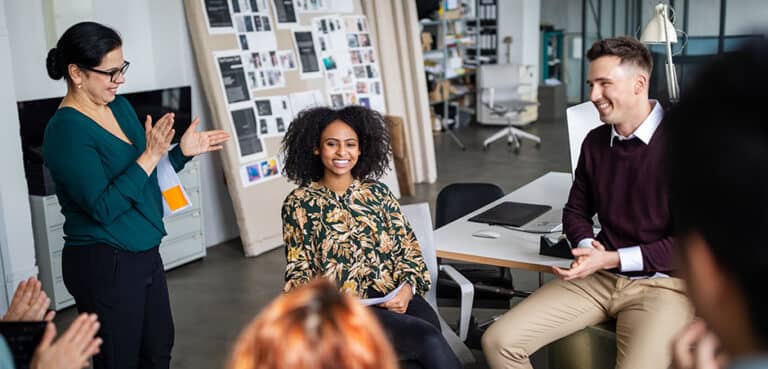 For business owners, it is always a challenge to hire and retain good employees. But in today's highly competitive job market, the task of keeping your workforce engaged and productive is more difficult than ever.
After a few disruptive years following the COVID-19 pandemic, more and more working Americans are finding themselves dissatisfied with their current jobs. In fact, a recent survey by Monster.com found that a staggering 96% of workers are looking for a new position by 2023! Meanwhile, the company also reports that 9 out of 10 employers say they are struggling to fill positions.
With these trends in mind, your company needs a solid recruitment and retention strategy. And many experts agree that improving employee morale and engagement is the best place to start.
Why? Because not only does employee engagement improve long-term retention, but disengaged employees are estimated to cost the United States up to $600 billion in lost productivity each year.
To help your company attract and retain the best people, here are 9 tips to boost employee morale.
Offers competitive benefits
Every employee wants to feel that their contribution is valued. So whether you̵

7;re managing a staff of hundreds or hiring your first employee, offering a competitive compensation and benefits package is one of the most important ways to attract top-performing talent to your organization.

At the most basic level, this means offering a base salary that reflects the current reality of your local labor market. According to Monster, 46% of workers expect a higher salary this year due to inflation and the higher cost of living. If your company's wages are out of step with the market, don't be surprised if employees start looking for jobs.

In addition to a competitive annual salary, employees also place a high value on benefits such as health insurance, paid time off and pension contributions. For small businesses, the cost of these benefits can add up quickly. But you can get some of that expense back in the form of reduced staff turnover.

After taking a look at your current salary and benefits, don't forget to publish the details in an employee handbook. This written documentation can help your employees understand all the details of your benefits package—along with what is expected of them as members of your team.
Promote work-life balance
Another change that employers are noticing after the covid-19 pandemic is a higher value placed on work-life balance by employees. To help boost employee morale, your company may want to consider allowing employees to work from home, if possible. A growing number of small businesses are also adopting a hybrid work model – one where employees split their time between working from home and working on-site at a company-owned location.
If telecommuting options aren't realistic for your company, there are still things you can do to promote a better work-life balance for your staff. Offering more flexible schedules or race time is a good way to acknowledge that employees have a life outside of work, allowing them to make time for friends, family commitments and personal interests. And drawing clear lines between work and home life can be done by discouraging calls and emails outside of work hours.
Be transparent
As a business owner, establishing clear lines of communication with your employees is another great way to improve morale and engagement. According to a Slack study on the future of work, 80% of workers want to know more about how decisions are made in their organization and 87% want their company to be transparent.
Transparency creates trust between employees and employers. So when you create an environment where your team members feel comfortable asking questions—and can get honest answers—you're more likely to earn their loyalty and commitment.
Ask for feedback
Speaking of transparency, never underestimate the importance of regularly asking your employees for feedback. All too often, business owners only seek feedback during exit interviews – after an employee has already decided to leave your company. With this approach, you're missing out on tons of valuable insights that can help you improve morale and engagement.
Create a company culture focused on continuous improvement by routinely creating opportunities for employee feedback. To achieve this, consider using a combination of internal surveys, employee review sessions and company-wide meetings. Ask your staff why they choose to stay with your company and what they would change to make their lives better. Then use the insights you gain to create a better work environment.
Support wellness initiatives
In a recent report from Workhuman and Gallup, employee well-being was found to play a role in reduced levels of burnout, better social well-being, higher levels of belonging, and an increased sense of well-being. For that reason, many employers are beginning to pay more attention to employee well-being—including the physical, emotional, mental, financial, and social well-being of their teams.
When you think about it, it makes sense that you can improve morale and productivity by helping your employees make their lives better outside of work. So be creative in thinking of new ways to promote wellness. This could mean offering perks like a free gym membership to encourage physical activity or signing up for an employee support program to offer mental and emotional health support.
Show your appreciation
Sometimes even small gestures can have a big impact on employee morale. And there are many ways to show your appreciation for a job well done.
Take time to celebrate special accomplishments like hitting sales goals, landing a new client, or getting a great customer review. Recognition can come in many forms – whether it's a small gift, a handwritten note or an email to your staff.
And don't ignore those business holidays like Administrative Professional Day, Staff Appreciation Day or Fun at Work Day. While not always celebrated, they offer a great opportunity to show your gratitude, boost morale, and foster creativity. Injecting fun into your workplace can have positive effects by bringing everyone together. Consider themed food days, games, crafts, prizes, etc.
Prioritize Team Building
When you work full-time, it can feel like you spend as much time with your colleagues as you do with your own family. So investing in building good relationships at work is an easy way to improve morale.
As an employer, consider organizing regular team building events to bring your employees closer together. This can be as simple as scheduling an after-work happy hour, or planning a fun activity for your staff to do together like an "escape room" event, putt-putt, or visiting a local museum. Be creative and ask your employees for ideas too.
And if your company has remote workers, consider bringing them in for in-person meetings once or twice a year. You'll find that face-to-face interactions help build stronger bonds than a video conference.
Offer performance-based incentives
If you want to improve morale and increase productivity at the same time, consider offering performance-based incentives to your employees. You can do this by tying raises to employee performance reviews, or by creating a profit-sharing structure that offers bonuses based on your company's financial performance.
These types of merit-based incentives can keep morale strong—while encouraging your top performers to stay with your company for the long haul.
Market from within
The next time you have an open management position, take a good look at your internal candidates before choosing an external hire. The truth is, everyone likes to see hard work recognized and rewarded. Hiring from within sends a message to your employees – that they know it's possible to build a career at your company.
If you foresee a skills gap, look for ways to bridge it by offering training or professional development opportunities. Investing in training and growth for your employees will not only boost morale. It can also result in reduced onboarding costs and increased retention rates.
As an entrepreneur, you care about your employees. While you're looking for them, our team at Erie Insurance is hard at work for you—with business insurance policies tailored to your unique needs. To find out more about how we can help protect everything you've built, contact us today.
ERIE® insurance products and services are provided by one or more of the following insurers: Erie Insurance Exchange, Erie Insurance Company, Erie Insurance Property & Casualty Company, Flagship City Insurance Company and Erie Family Life Insurance Company (home office: Erie, Pennsylvania) or Erie Insurance Company of New York (home office: Rochester, New York). The companies within the Erie Insurance Group are not licensed to do business in all states. See the company's licensing and business information.
The insurance products and rates, if applicable, described in this blog are effective as of July 2022 and are subject to change at any time.
Insurance products are subject to conditions and exclusions not described in this blog. The policy contains the specific details of coverage, terms, conditions and exclusions.
The insurance products and services described in this blog are not offered in all states. ERIE life insurance and annuity products are not available in New York. ERIE Medicare supplement products are not available in the District of Columbia or New York. ERIE long-term care products are not available in the District of Columbia and New York.
Eligibility will be determined at the time of application based on applicable underwriting guidelines and rules in effect at that time.
Your ERIE agent can offer you practical guidance and answer any questions you may have before you buy.

Source link