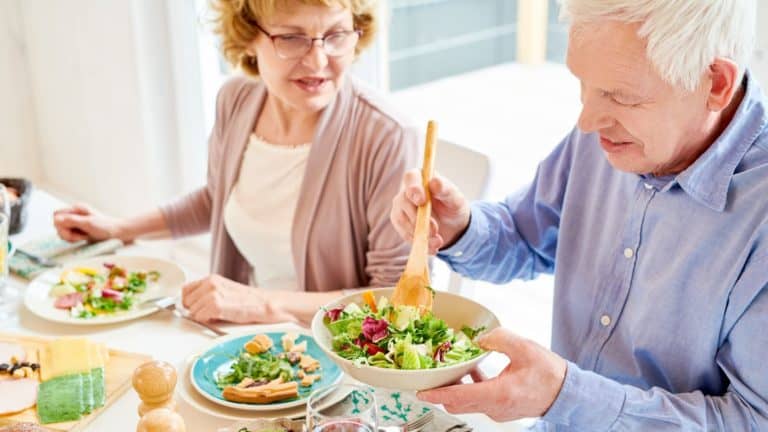 Let's face it – Thanksgiving weekend revolves around food. It's about getting together with family or friends to enjoy an indulgent meal. Traditional Thanksgiving dishes, like cornbread stuffing, mashed potatoes, and pumpkin pie, are chock full of carbs and sugar, which can wreak havoc on a diabetic's blood sugar levels. Here are some ideas to make it easier for diabetics to enjoy Thanksgiving dinner.
Diabetes-friendly dishes for Thanksgiving dinner
If someone joining you for Thanksgiving dinner is diabetic, you'll want to serve diabetic-friendly dishes while maintaining your Thanksgiving traditions. These holiday meal ideas can help:
Serve a low-carb green bean casserole: Usually, green bean casserole served with Thanksgiving dinner is loaded with breadcrumbs and carbs. For a low-carb variety, try green beans with almond gremolata, made with roasted almonds. You can find the recipe in several places online, including the Food Network.
Make your filling with sausage and apples: Stuffing is a hearty, traditional Thanksgiving side dish. Try making it with sausage for protein and fiber-filled apples to promote stable blood sugar. Google "cornbread apple and sausage stuffing"; to find a recipe you like.
Reduce the sugar in your pumpkin pie: Who can resist a slice of pumpkin pie after Thanksgiving dinner. This treat will be more diabetic-friendly if you use a low-sugar recipe, like this one for Ginger Pumpkin Pie.
Adapt your sweet potato for diabetics: One idea is to mix sweet potatoes with plain yogurt for a dish with added protein and higher-quality carbohydrates for slow absorption, like in this recipe.
Replace the dinner rolls: Try swapping out traditional rolls for something diabetic-friendly, like these Roasted Pine Nut Herb Pumpkin Muffins.
How to indulge in Thanksgiving dinner without going overboard
If you're diabetic, you can enjoy a Thanksgiving feast with the rest by using these tricks to properly balance your plate:
Go to the turkey first: High protein, low carb foods are your best option. Protein digests more slowly with less impact on blood sugar levels.
Practice portion control: Eating smaller portions can help you keep your blood sugar levels balanced during the holidays.
Choose the right carbohydrates: Not all carbohydrates are created equal. Try to choose those that come from high-quality plant sources, such as berries, winter squash, sweet potatoes, or quinoa. Fiber in these types of carbohydrates helps slow down digestion and prevent blood sugar spikes.
Upgrade your recipes:Small changes to many recipes can make them more diabetes-friendly. For example, substituting almond flour (combined with a small amount of tapioca flour to make it bind better) for white flour in a recipe can increase the protein and decrease the carbohydrate content of a dish.
Get up and move after your meal:Overeating is what we do on Thanksgiving. If you were no exception, go for a walk to prevent a blood sugar spike after the heavy meal.
If you or someone in your family is diabetic, proper medical care is important to managing the condition. Our agent can help you get the health insurance you need at the best rates available.
Source link